»

Union Services

The Student Union provides services that help increase productivity and enhance the overall student experience outside of the classroom.

 
Argyros Amazon Locker
Have your Amazon orders safely delivered to Chapman's very own Amazon locker located in the Argyros Forum Student Union!
Available for access during Student Union operating hours
Complete pick-up and returns for your Amazon orders
Free Prime shipping and standard shipping rates apply
Card Reader
The Student Union information desk has a card reader! Stop by to get your card coded or fixed.
Outgoing Mailbox
The Outgoing Mailbox is located next to the Amazon Locker in the Union Tech area of the Student Union! You can now drop off any outgoing mail during the Student Union open hours.
Mobile Chargers
Mobile Chargers are available to students, faculty, and staff for 4 hours at a time for free! Simply download the Oomf app on your mobile device, create an account, grab a charger from the Student Union Information Desk, and activate your charger!
Laptops to-Go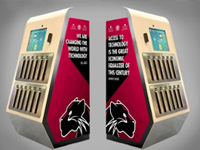 This fully automated laptop borrowing service that offers both Dell and Apple laptops for a four-hour borrowing period.
Designed to get you onto a computer instantly and hassle-free
Laptops-to-Go is FREE for all Chapman students with a valid ID
Just swipe your card, take a laptop, and return it within the 4-hour time limit
Community Supported Agriculture
The CSA program connects Chapman students, faculty and staff with local farms for fresh produce. 
Collaboration Cubes
The collaboration cubes in the Student Union are newly repurposed spaces that give students access to areas designated for private collaboration. If you have any questions, please email studentunion@chapman.edu.
Each cube is equipped with:
Apple TV
Cable TV
Dell Computer
Request a Space
The Student Union offers a built-in stage, AF 119A and 119B multipurpose rooms, the Great Room, and the Collaboration Cubes for student programs. Student organizations can request space online using 25Live. Alternatively, contact the Event Scheduling Office at (714) 744-7061 for more details.
Poster Making Station
Visit the Poster Making Station near the AF 119 multi-purpose room. If you are a member of a student organization and would like access to poster making materials including paper, markers, tape and string, head on over to the Information Desk for assistance.
Academic Resources

Back

Academic Advising

Back

Advising Process

New Students

Undeclared Student Advising

Academic Probation and Dismissal

Placement Tests

First Generation

Graduation

Registrar's Office

Back

Student Services

Back

Graduation

Privacy Rights / FERPA

Steps To Register

Testing and Learning Center

Back

Tutoring Services

Learning Resources

Back

Study Strategies

Preparing for Exams

Health & Safety

Back

CCI Education and Resource Team (CERT)

Disability Services

P.E.E.R.

Back

Rape, Sexual Assault & Abuse

Events

Student Concern Intervention Team

Student Health Services

Student Psychological Counseling Services

Title IX

The Wellness Project

New Students

Back

First Year Experience

Graduate Student Checklist

Policy & Procedure

Student Life

Back

Campus Leadership Awards

Civic Engagement

Clubs & Organizations

Community and Civic Engagement

Cross-Cultural Center

Fitness & Recreation

Fraternity and Sorority Life

Back

About Greek Life

Sorority Life

Fraternity Life

Leadership Opportunities

Student Government

Back

Committees

members

Interact with SGA

Student Union

University Program Board

Services

Back

Residence Life and First Year Experience

Back

About RLFYE

Housing Options

Back

First Year Student Housing

Continuing Student Housing

Off-Campus Resources

Applying For Housing

First Year Experience

Forms and Resources

International Student & Scholar Services

Back

New Students

Current Students

Employment

Life at Chapman

Veterans Resource Center

Student ASK

Tuition & Aid

Back

Student Business Services

Back

Tuition and Tuition Services

Billing

Financial Aid

Back

Graduate Students

Back

Loans

Fellowships, Endowments and Scholarships

Undergraduate Students

Back

Loans

Scholarships and Grants

Forms