Federal Loan Counseling and Master Promissory Note
Federal Loan Counseling and Master Promissory Note
»

Federal Loan Counseling and Master Promissory Note

Per Federal requirement, students who receive Federal Direct Loans for the first time must complete Federal Loan Entrance Counseling and the corresponding Master Promissory Note (MPN) for the loan(s). Until these requirements are met, loan funds cannot be released to the student.
Federal Loan Entrance Counseling
Federal Loan Entrance Counseling is a process set up by the Federal government to educate new students about loans and the Federal Direct Loans program. It consists of a short mandatory information session that will help you learn about your rights and responsibilities as a borrower. The process takes about 15 to 20 minutes to complete. Federal Loan Entrance Counseling can be completed online at www.studentaid.gov by signing in with your (the student's) FSA ID Username and password. After logging in, expand the "I'm In School" drop-down menu and select "Complete Entrance Counseling" to begin your Loan Entrance Counseling.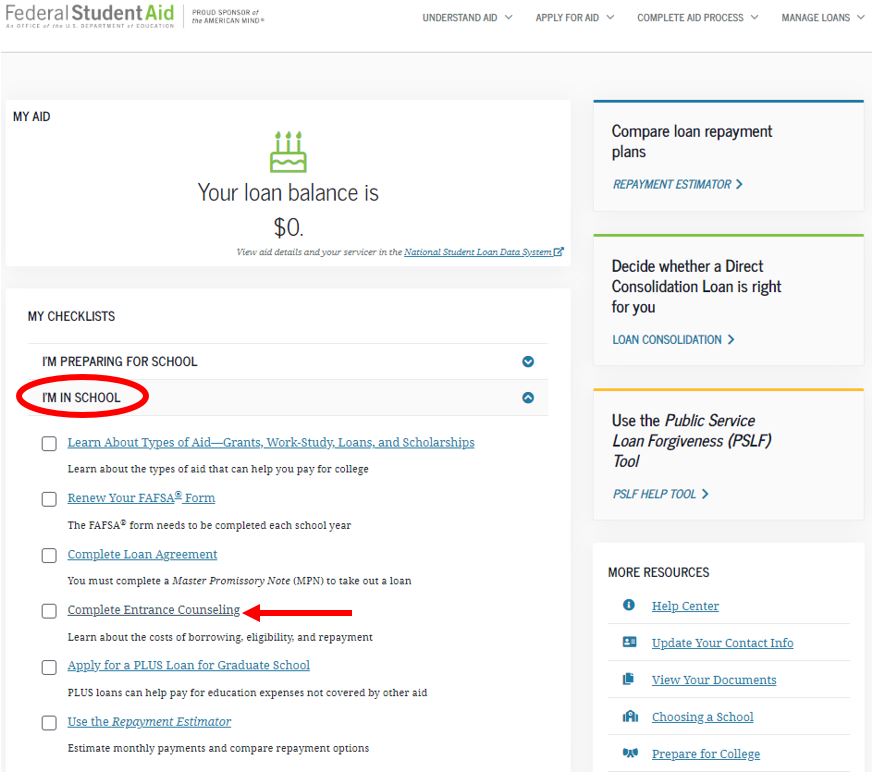 Upon successfully completing Federal Loan Entrance Counseling, an electronic statement of completion is generated within the Federal Direct Loans system. Processing for this statement can take up to two business days from the point it reaches Chapman University's system. Please be aware that this only applies to the Federal Direct Loans. Other loans, such as the Chapman Interest-Free Loan and private loans have their own requirements that must be completed.
Master Promissory Note
It may be requested that you complete a MPN if one has not already been completed. A MPN can be completed by logging into www.studentaid.gov and selecting "Complete Loan Agreement" from the "I'm In School" drop-down menu.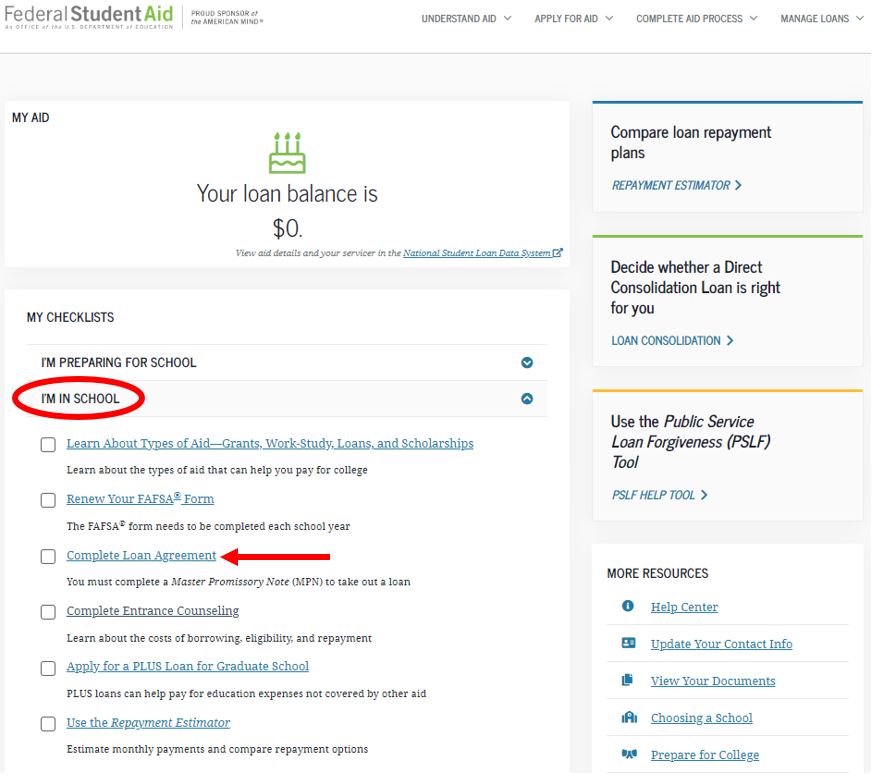 Make sure to select the correct MPN type if you are a student borrower or parent borrower and follow the steps accordingly. Once completed, an electronic MPN will be generated. You may wish to print a copy for your personal records. These electronic MPNs are sent to Chapman University's system twice a week and may take up to two additional business days for processing.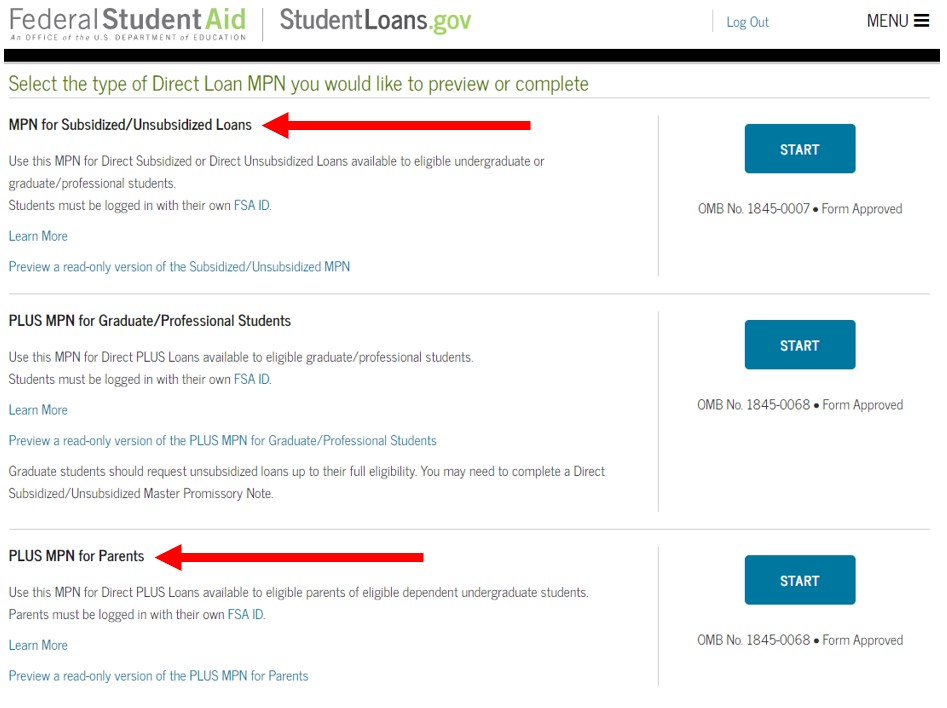 Note that a MPN must be completed by each borrower. Federal Direct PLUS loans require a separate MPN. For Parent PLUS borrowers, the PLUS Loan MPN must be completed by the borrowing parent.
Academic Resources

Back

Academic Advising

Back

Advising Process

New Students

Undeclared Student Advising

Academic Probation and Dismissal

Placement Tests

First Generation

Graduation

Registrar's Office

Back

Student Services

Back

Graduation

Privacy Rights / FERPA

Steps To Register

Testing and Learning Center

Back

Tutoring Services

Learning Resources

Back

Study Strategies

Preparing for Exams

Health & Safety

Back

CCI Education and Resource Team (CERT)

Disability Services

P.E.E.R.

Back

Rape, Sexual Assault & Abuse

Events

Student Concern Intervention Team

Student Health Services

Student Psychological Counseling Services

Title IX

The Wellness Project

New Students

Back

First Year Experience

Graduate Student Checklist

Policy & Procedure

Student Life

Back

Campus Leadership Awards

Civic Engagement

Clubs & Organizations

Community and Civic Engagement

Cross-Cultural Center

Fitness & Recreation

Fraternity and Sorority Life

Back

About Greek Life

Sorority Life

Fraternity Life

Leadership Opportunities

Student Government

Back

Committees

members

Interact with SGA

Student Union

University Program Board

Services

Back

Residence Life and First Year Experience

Back

About RLFYE

Housing Options

Back

First Year Student Housing

Continuing Student Housing

Off-Campus Resources

Applying For Housing

First Year Experience

Forms and Resources

International Student & Scholar Services

Back

New Students

Current Students

Employment

Life at Chapman

Veterans Resource Center

Student ASK

Tuition & Aid

Back

Student Business Services

Back

Tuition and Tuition Services

Billing

Financial Aid

Back

Graduate Students

Back

Loans

Fellowships, Endowments and Scholarships

Undergraduate Students

Back

Loans

Scholarships and Grants

Forms