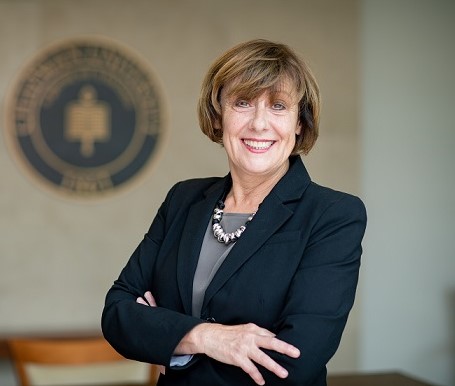 As the Executive Vice President, Provost and Chief Academic Officer of Chapman University, I want to welcome you to the Office of the Provost.
At Chapman University, we wholeheartedly embrace the pursuit of knowledge through teaching, research, scholarly, and creative inquiry. Our unwavering commitment to academic excellence and the advancement of society through learning distinguishes us as a beacon of intellectual growth and innovation. As the Provost's Office, we take immense pride in cultivating an environment that nurtures and supports the intellectual curiosity of both students and faculty.
Student-Success: We are committed to providing our undergraduate and graduate students with a comprehensive education, equipping them with critical thinking skills, and nurturing their personal and professional growth as the next generation of thinkers, leaders, and change-makers. Through mentorship programs, research opportunities, and extracurricular activities, we ensure that our students are well-prepared to lead purposeful and meaningful lives beyond the confines of the classroom.
Research Excellence: We encourage and support our faculty members in their pursuit of cutting-edge research and scholarship that tackles real-world challenges and furthers human understanding. We boldly promote an atmosphere of intellectual curiosity that fosters cross-disciplinary collaboration, pushes the boundaries of understanding, and nurtures innovation. 
Collaborative Team: We foster a strong sense of community among students, faculty, staff, and alumni and recognize that a broad range of perspectives promotes creativity and nurtures a culture of exploration. We actively encourage collaboration between departments and academic disciplines, facilitating holistic learning experiences and dynamic research endeavors that push the boundaries of knowledge.
Community Engagement: At Chapman University, knowledge creation and dissemination extend beyond our campus borders. We proactively engage with local and global communities, striving to address societal challenges and positively contribute to the world.
As the Office of the Provost, we are devoted to upholding the highest standards of academic excellence and fostering an environment where both teaching and research thrive. We invite you to explore the wealth of opportunities and resources available at Chapman University, and we eagerly anticipate supporting you on your journey of intellectual exploration and growth.
Welcome to our vibrant community of learners, researchers, and educators!
Norma Bouchard, Ph.D.