»

Student Ask Resources about Academic Advising
Where do I go to get help planning and scheduling the classes I need to graduate?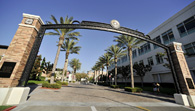 Visit the Academic Advising Center in Beckman Hall, room 406. To contact, visit the academic advising contact page to determine which advisor you would like to speak to.
Where do I get help with my homework or essays?
I am interested in tutoring on campus for extra income, where can I inquire more information on this?
Email Diane Eisenberg, Chapman University's Tutor Administrator, at deisen@chapman.edu to inquire about tutoring options, or visit DeMille Hall, room 130.
I would like to change my grade option to Pass/No Pass, but it is past the deadline. What can I do?
Once the deadline has passed, the change in grade option for Pass/No Pass cannot be requested from the Registrar. For other options, view grade option forms.
I would like to create my own major. How do I do this?
Please refer to the Self Designed Major form on the Registrar's webpage to see in-depth instructions.
I am trying to find out more about the Study Abroad programs, where would I go to get more information?
Chapman University offers a wide range of Study Abroad programs. Visit the Study Abroad Study Abroad webpage.
I am trying to register but I can't because I have a hold. How can I get my hold removed?
There are three kinds for registration holds and you will need to take a different course of action depending on the type of hold. 
For additional information, view our "I am trying to register but I can't' PDF.
I have to drop a class (or classes) but it is after the drop deadline. What can I do?
Students can petition for a late withdrawal from a course for medical/psychological reasons, military service or for a family emergency. You will need to complete a Petition for Late Withdrawal from and attach a letter discussing the circumstances that necessitate your request. Once you have completed the Petition, statement and you have secured the documentation from your health care provider/therapist, contact the Dean of Students Office at (714) 997-6721 to schedule an appointment with the Associate Dean of Students. 
View the attached PDF from more information. 
Due to an illness or family emergency, I cannot finish this semester. What are my options?
Your main option is to withdraw from classes. For more information about the withdrawal process, please use the following link: http://www.chapman.edu/RegOffice/OC/withdraw.asp. If you plan to be out for the remainder of the current semester, please also take a moment to learn more about interrupted enrollment and the policies related to it. They can be found at the following link: 
View the attached PDF for more information. 
How do I register for classes?
The first step in the registration process is to look on Web Advisor for your registration date. On the date and time of your registration, log on to Web Advisor and register for your classes online. You can find more information at the Registrar's Office.
How do I order transcripts?
You can order transcripts through Web Advisor under the National Clearinghouse Self-Service. You can also order off of www.getmytranscript.com.  It costs $10 per transcript and there is an optional rush charge if needed.
I really need to register for this class but it is full. What can I do?
If a class is full, a student's best option is to approach the professor who teaches a class and ask to be added. If that doesn't work, the only viable option is to approach the chair of the class's academic department; only the department chair or Dean of the college can make an exception when a class is full. If you need the class in order to graduate on time, you will have a better chance of receiving an exemption.
View the attached PDF for more information. 
Can I appeal my grade? How?
Chapman policy makes it very difficult to change a grade after it has been posted on your transcript. The policy states a grade should be changed only if there was a calculation error or clerical error, so speak to your professor directly first. However, if you feel you have received a grade that is not accurate you can appeal your grade by petitioning the Standards Committee. 
Find more information on challenging a grade in the course catalog.
Contact Us
---
Have a question that isn't answered here? Contact the Dean of Students Office.
Email: dos@chapman.edu
Phone: (714) 997-6721