»

College Counselor Community

To receive application and program updates from Chapman, join our counselor interest list here.

Though our Admission team is currently working remotely, we're still here to help your students through their college selection process.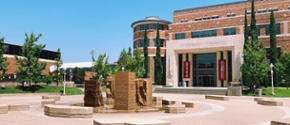 Request a presentation
An admission representative can customize a presentation for your students' needs.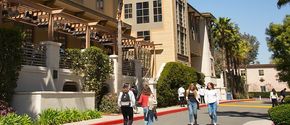 Visit Opportunities
We have several opportunities to discover Chapman in-person or virtually.
Contact us
Let us know however we can help! You can email us or reach out to an admission counselor.
Application Process
Below you can find information about applying, required application materials and costs of attending Chapman. You can also visit our How to Apply page for more thorough instructions.
Application Deadlines
There are three different timeline options for applying as a first-year student to Chapman:
Early Action (non-binding): November 1 deadline
Early Decision (binding): November 1 deadline
Regular Decision (non-binding): January 15 deadline
In addition, the following programs have November 1 deadlines:
The deadlines for counselors to submit transcripts and recommendation letters are the same as student application deadlines.
Scholarships for students in the College of Performing Arts are prioritized for students who apply Early Action, Early Decision or by the priority deadline.
Early Action (EA)
Early Action (EA) is a non-binding early deadline. Decision notification begins in late December for most programs, and are then sent on a rolling basis through the beginning of February.
EA applications are due November 1.
EA applicants may apply to other Early Action colleges.
Binding Early Decision and Early Decision II program applicants to other schools can also apply Early Action to Chapman.
Early Decision (ED)
Early Decision (ED) is a binding early deadline. Early Decision notifications are sent in late December. This option is appropriate only if Chapman is a student's first choice.
ED applications are due November 1.
Binding means that the student must commit to enroll at Chapman if admitted. ED applicants cannot apply Early Decision to other institutions.
ED applicants can apply EA to other colleges, but must withdraw those applications if admitted to Chapman.
Regular Decision (RD)
Regular Decision (RD) is a non-binding deadline and is chosen by the majority of our applicants. Decision notification for RD is in mid-March.
RD applications for Fall are due January 15.
RD applicants may apply ED or EA to other institutions.
Test optional Policy
Chapman has a test-optional admission process. We hope this new policy will further align our admission process with student success and expand access to a Chapman education. You can 
learn more about our test optional policy here
.
Chapman Questions (supplementary writing)
General Campus and Admission Statistics
Visit our Facts & Rankings page for general statistics and rankings information about Chapman University.
You can use Chapman University's Datamart for retention and graduation rates, information about degrees awarded, student and faculty headcounts and more.
Chapman had a 60% acceptance rate for first-year applicants applying for fall 2021. Talent majors are generally our most competitive programs. Here are some of our most recent admitted first-year student averages:
Test scores (for those who submitted scores)


SAT (Math and Verbal)

Top 25%: 1460 or above

Average: 1381

Bottom 25%: 1320 or below

ACT Scores (Composite) 

Top 25%: 33 or above

Average: 30

Bottom 25%: 29 or below

 

Average high school GPA: 3.8
Note that for students admitted in 2020 (the last year test scores were required), the average SAT score was 1312 and the average ACT score was 28.
Keep in mind that these are averages, and we look at far more than grades and scores. We use a holistic application process that considers whether your student will fit in and succeed at Chapman.
Costs and Financial Aid
Chapman University offers merit and need-based awards to students: more than 80% of our students benefit from some type of financial aid and the average need-based award is more than $28,000.
Students are automatically considered for financial aid awards when they apply to Chapman. Individual departments and colleges within Chapman University may offer additional financial aid awards.
Visit our Financing Your Chapman Education page for more information about paying for Chapman. We try to make Chapman affordable to a diverse population of students and hope cost does not deter any student from applying.
Track Your Students on Slate.org
To help you and your students, we use a tool called Slate.org. With this free resource, you can:
View your students' admission details at Chapman, including application status, decision and missing documents.

Upload missing materials that can be provided by a school counselor.
If you haven't already, please register your school on Slate.org and ensure that any other staff members who may need access to Slate.org create an account as well.
Take a Self-Guided Tour
---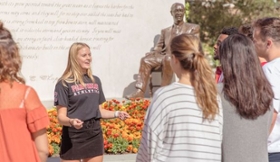 Virtually explore Chapman in this student-led tour through our Orange Campus. You'll be able to visit classrooms, hang-out spots, our residence life area and much more!
Office of Admission Contacts
---
Email us:
Call us: (714) 997-6711
Send your documents:
Chapman University
Attn: Office of Admission
One University Drive 
Orange, CA 92866
Follow Us on Social Media
---
Follow us on social media for tips, news and updates about applying to Chapman University:

 Admission Instagram

 Admission Facebook

 Admission Twitter

 Admission YouTube