Self-guided Tour Visit Requirements and Protocols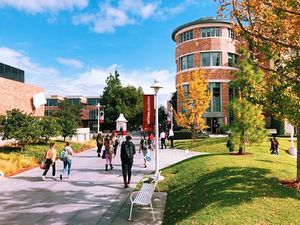 We ask that you register ahead of time and adhere to the following requirements and protocols before and during your visit:
Each visitor in your party must submit a Daily Health Screening Survey on the day of their arrival. Everyone submitting the survey will receive an email confirming their permission to visit campus. Do not visit if you are:

Experiencing any symptoms associated with COVID-19
Test positive for COVID-19
Have any known contact with someone who tested positive for COVID-19 in the last 10 days

Be prepared to be stopped by a Public Safety representative for evidence of your approval to be on campus. This evidence will be the confirmation email from the Daily Health Screening Survey.

All tour guests (regardless of vaccination status) are required to wear face coverings while indoors on the Chapman University campus.

Limit your number of guests to two (2).
Park in our Lastinger Structure. A parking permit should be displayed on your dashboard. (We will email you a permit after registering.)
Follow all Chapman University COVID-19 safety protocols, which include:

Following proper hand hygiene guidelines while on campus by washing hands or using hand sanitizer stations.
Maintaining social distance of at least 6 feet of distance from others at all times while on campus.