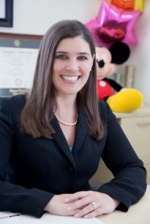 From her first day of 1L orientation in 2007, people who met student Kyndell Gaglio ('10) knew that she was a woman with a clear vision for success and the tools to excel in whatever field she chose. An active student who attended "every mixer, seminar and networking function at Chapman," Kyndell earned a well-deserved reputation as a savvy networker and an engaging ambassador for the law school. "I wasn't the type of student to hole up in my apartment and study every minute of the day," she admitted. "I took advantage of every opportunity to get out there." Her persistent but professional style of networking paid off in early 2011, when she landed her self described dream position as Manager, Government Relations at the Disneyland Resort in Anaheim, just a few miles from the Chapman campus.
Kyndell traces her success in landing this plum position to her participation in an innovative legislative advocacy course at Fowler School of Law. It was here that Kyndell met her mentor and friend, adjunct professor Carrie Nocella, a Chapman University alumna and Director of Government Relations and Minority Business Development at the Disneyland Resort. "The class was amazing," noted Kyndell. "We had a slew of guest speakers – heavy hitters from the community such as State Senator Lou Correa, Anaheim Mayor Curt Pringle and Orange County Supervisor Bill Campbell." Kyndell later used those very contacts in her various positions in government relations and public policy.
Prior to getting the Disney position, Kyndell was on a fast track in government relations and public policy. As part of the course work in the legislative advocacy class, she was encouraged to take a related internship. Kyndell was hired as a policy advisor for Orange County Supervisor, John Moorlach, a one-semester internship that she parlayed into a two-year full time position. Kyndell also worked as a student assistant in the Government Relations office at Chapman University, working in the office of Sheryl Bourgeois, Vice President for University Advancement.
Kyndell acknowledges that she has an aggressive style of networking, but points out that "I never bombarded Carrie with my resume, even though I really wanted to get my foot in the door at Disney." Instead Kyndell built a friendship with Carrie and proved that she could do the job. Her persistence, coupled with her experience, led to the current position.
Even though she is not in the courtroom, every day Kyndell uses her legal education and training. "People don't realize how much law is incorporated into this (government relations) job," she explained. Examples include staying abreast of contract negotiations, ensuring compliance with laws, analyzing and tracking legislative issues. "In this position, I found a job with the perfect mix of creative troubleshooting and interaction with the law," she beamed as she settled in for a long career at the "Happiest Place on Earth."