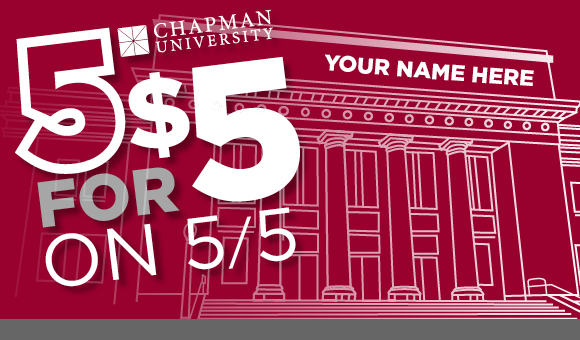 5 for $5 is back!
#5for5CU
Have you ever wondered if you would feel different if your name graced part of an institution? Now is your chance to try it on for size; the 5 for $5 on 5/5 giving campaign is back! Whether it's celebrating your memories, your friends, honoring your family members or just expressing your humor you can, for five minutes, get your name on the front door (if that's where you want it)!
Just like last year, with the 5 for $5 on 5/5 campaign, you can name any building, dorm room or place on campus for 5 minutes on May 5 with a gift of just $5.
This year, we're introducing a little friendly competition to find out which alumni are most connected. You can rename any space on campus. Your participation earns one point for the school or college from which you received your degree. The school with the most alumni participants wins and receives bragging rights for the next year. Argyros School of Business and Economics is the reigning champion from last year! Use our hashtag, #5for5CU, to get your fellow alumni to join in the fun!
You can add $5 increments to extend the life of your newly renamed area of campus or to rename multiple areas of campus. To celebrate the occasion, donors will receive an e-certificate commemorating their renaming on May 5.