[11/25/20, updated]
Using animals is a privilege to create knowledge.  We learn from them for the benefit of the community of other animals and humans, as models in research, and to promote the environment.  How we use animals is more than being compliant with regulations and guidelines, however.  There are scientific and ethical considerations, too.  This webpage is meant to describe what Chapman University does to ensure that research, testing, and teaching activities involving animals is conducted humanely.
Dictionary.com defines humane as "acting in a manner that causes the least harm to people or animals."
The American Veterinary Medical Association (AVMA) describes animal welfare as "… how an animal is coping with the conditions in which it lives.  An animal is in a good state of welfare if (as indicated by scientific evidence) it is healthy, comfortable, well nourished, safe, able to express innate behavior, and if it is not suffering from unpleasant states such as pain, fear, and distress.  Good animal welfare requires disease prevention and veterinary treatment, appropriate shelter, management, nutrition, humane handling and humane slaughter."
The Collaborative Institutional Training Initiative (CITI) in its training says "Good science requires good animal care.  Animals that are in poor condition, in discomfort or in pain are poor research subjects if such problems are extraneous to the objectives of the research.  The impact on the animals' physiology can alter the outcome of the research data.  In these cases, animal well-being supports the integrity of the research."
Call before you dig – This phrase, taken from the utility industry, is meant to take precautionary steps BEFORE diving into an action which might cause an accident or result in something unwanted.  The same applies to conducting animal research.  Contact the IACUC office to discuss your study as it pertains to considerations for animal welfare, writing your protocol, and obtaining knowledge.
The IACUC and the Research Office at Chapman rely on the observations of individuals to ensure the well-being of all animals used in research and/or teaching.  All personnel -- including investigators, members of the public, and animal husbandry staff -- are encouraged to express their concern, if they:  see animals that appear to be in pain/distress, witness or are involved in an incident that may impact the welfare of laboratory animals at Chapman, have a concern about the conduct of personnel handling laboratory animals, and/or have a concern about protocol integrity or possible scientific misconduct.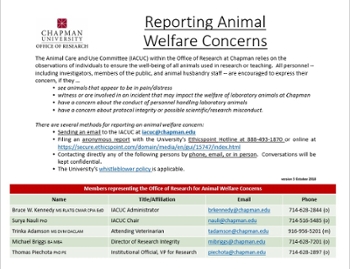 The IACUC at Chapman has a process to address animal welfare concerns (sometimes also called adverse event, non-compliance incident, or unanticipated outcome).  A copy of the guideline is available from the the IACUC office and the Office of Research.  To make a report, review this chart as represented above for an overview.  Make contact with the IACUC office at 714.628.2844 or email, or through others on the chart. Complete the adverse event report.  Know that the process is supported by institutional compliance at research link from Chapman's internal audit (ethics) office.