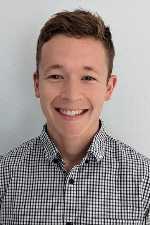 Dr. Patrick Hunnicutt
Assistant Professor, Environmental Science and Policy

Wilkinson College of Arts, Humanities, and Social Sciences
Schmid College of Science and Technology; Environmental Science
Education:

Duke University, Bachelor of Arts
University of California, Santa Barbara, Master of Arts
University of California, Santa Barbara, Ph.D.
Biography
Dr. Hunnicutt recently completed his Ph.D.in Environmental Science and Management at the University of California, Santa Barbara. His research examines how shortages in environmental goods and services, like clean water and security from climate change, are a significant barrier to human well-being. Part of his work examines how citizens around the world can collectively mobilize to elicit better environmental goods and services from the government. He has published several co-authored articles in high-profile journals, including International Peacekeeping and the Journal of Environmental Studies and Sciences. He was also the recipient of a Peace Scholar Fellowship from the United State Institute of Peace among numerous other fellowships and grants.   
Recent Creative, Scholarly Work and Publications

Buntaine, Mark, Bing Zhang, and Patrick Hunnicutt. 2021. "Citizen monitoring of waterways decreases pollution in China by supporting government action and oversight." Proceedings of the National Academy of Sciences 118(29): e2015175118.

Buntaine, Mark T., Patrick Hunnicutt, and Polycarp Komakech. 2021. "The challenges of using citizen reporting to improve public services: A field experiment on solid waste services in Uganda." Journal of Public Administration Research and Theory 31(1): 108-127.

Hunnicutt, Patrick. 2021. "Should UN Peacekeepers Help Regulate Conflict Minerals?" Political Violence at a Glance. May 6.

Hunnicutt, Patrick, and William G. Nomikos. 2020 "Nationality, gender, and deployments at the local level: Introducing the RADPKO dataset." International Peacekeeping 27(4): 645-672.

Nomikos, William, Melanie Sauter, Rob Williams, and Patrick Hunnicutt. 2020. "The Military Has Ousted Mali's President. That Raises Questions about the Country's Ongoing Security Challenges." The Monkey Cage. August 26.