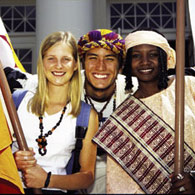 In this grouping of General Education courses, students are encouraged to be active learners in and beyond the classroom. This part of the General Education (GE) program is flexible in several ways. You can choose a semester-long study abroad program to satisfy the Global Studies Inquiry portion, and engage in experiential learning related to citizenship and/or community in the Citizenship, Community, and Service Inquiry area, or choose from a menu of courses in each area. For the language requirement, students demonstrate proficiency in a language other than English. Students complete a total of 12 credits in these three areas.  
Global Studies Inquiry: 6 credits; may be fulfilled through a Chapman sponsored semester abroad program or by completing two three-credit courses. Chapman sponsored international travel courses during interterm or summer count as one three-credit course in this category.

Citizenship, Community, Service Inquiry: 3 credits; may be fulfilled through approved courses or a pre-approved 3-credit service-learning internship or individual study.
Language Inquiry: 3 credits; Students complete part of their general education program in a language other than English so that they may lead inquiring, ethical and productive lives as global citizens. This may be accomplished by completing a language class at the intermediate or above level (i.e., a language acquisition course at the 201-level or a higher-level language course taught in a language other than English).
Click on the links above for more detailed information on each category.
You can use courses in these areas to learn more about a topic, culture, language, or other interest. Remember that many courses are approved in more than one GE category, so you can explore an area of interest in Global Studies Inquiry, for example, and then decide to study it in further depth through a Themed Inquiry or through a study abroad program. You may then apply the completed course to a different GE category.
Review your course options in each of the Global Focus categories, visit the Center for Global Education, and consult Career and Professional Development's Internship Guide for relevant internship opportunities. Experiential learning projects, which can be academic service learning internships or individual studies, apply on to the Citizenship, Community Service (CC) category, must be pre-approved by the General Education Director.