History of Women of Chapman
Written by Donna Bunce (Past President 2000-2002) to commemorate Women of Chapman's 40th anniversary in 2011.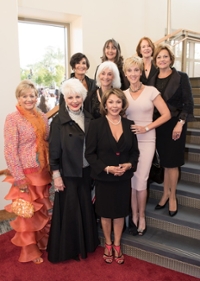 If Chapman University, called Chapman College at the time, had not acquired the SS Seawise University for use as a floating university in the early '70s, it is probably safe to say The Fashionables (our initial name) would never have been formed. It was because Chapman supporters Jack and Valerie Scudder interested Mildred Mead in the World Campus Afloat project that the impassioned Mead dove in and formed a small group of women she called The Fashionables to support it. Her mission for the group was to offer top-notch programs to the membership and use members' $100 dues for students in need of scholarships to enroll in the floating classroom.
Mead arranged a Meet-the-Designer Series showcasing couture and ready-to-wear fashions from noted California designers such as Courreges, Travilla and Mr. Blackwell, etc., with even an invitation from internationally known hair stylist Vidal Sassoon for a program in his Linda Isle home in Newport Beach. The group was treated to a "Day on Rodeo" by Giorgio owners Gale and Fred Hayman, with Kazanjian Jewelers hosting a special showing of their newest designs later in the day. There was even an elegant showing of Jean Louis' holiday fashions aboard a United Airlines 747 at LAX, where the group enjoyed plush red-carpet treatment, with the plane remaining on the tarmac the entire time.
In another fundraising idea in our founding year of 1971, Mead created a scarf representing World Campus Afloat and its ports of call by engaging the Scudder's son John, an art student at the Los Angeles Art Center, to design it. The navy silk twill hand-screened print scarf sold for $25 and was a big hit. This year we're offering a new hand-painted, one-of-a-kind silk scarf in commemoration of our 40th anniversary. You not only have one choice. You have two!
Mead continued to work her magic in offering interesting programs for The Fashionables' membership in fashion, fitness, facial rejuvenation and skincare throughout the '70s and into the '80s. There was the memorable appearance of Prince Von Furstenberg in 1976, who introduced his elegant menswear collection to our group in an invitational show at Bullocks South Coast Plaza. The group raised funds to house the Albert Schweitzer memorabilia at Chapman in 1979, and in 1980 bought equipment for Chapman's Human Performance Laboratory, which set the theme for an emphasis on fitness, echoed in The Fashionables' cookbook, Fashionable Food from California, by co-editors Mead and Lynn Osen. The recipes were submitted by members, including Marion Knott, who offered her famous Artichoke Dip, while John Wayne (Pilar Wayne was a founding member) provided his Chile Cheese Casserole, the Duke's favorite. And, I'll bet you didn't know Neiman Marcus assisted us with sales.
In 1983, our membership had doubled and we had contributed $100,000 to Chapman scholarships, and proceeds from sales of the cookbook had gone to Chapman's School of Business and Management.
In 1984, Mead asked her good friend Marylou Hornsby to take the presidency, while Mead stepped back a bit. Hornsby steered the ship for 13 years, during which time the group raised thousands of dollars to help build Chapman's All-Faiths Chapel, now known as the Fish Interfaith Center and Wallace All Faiths Chapel, on campus. It was during that time, beginning in 1986, that The Fashionables' successful fundraiser "Christmas at The Ritz" was launched, thanks to the tenacity of Hornsby and the fundraiser's first chair Dori di Kruif, as well as the generosity of Ritz owners Hans and Charlene Prager, who opened the doors of the venerable restaurant for the first time for lunch on a Saturday -- and since then, that first Saturday in December has been our fixed date for what will be 25 years this coming December. So, you see, we're not only celebrating 40 years as a group, but we're going to celebrate 25 years of "Christmas at The Ritz" this December. And, I think you should know, our honorary chairs for the upcoming "Christmas at The Ritz" are Charlene Prager and Dori di Kruif.  Hear, Hear! We have lots of surprises in store for you come December!
We have given Chapman University close to $5 million dollars, most notably since "Christmas at The Ritz" was launched, which has allowed The Fashionable Women of Chapman – we did change our name about 10 years ago - to give $250,000 to the Leatherby Libraries, $1 million to the building of Marion Knott Studios, home of the amazing Dodge College of Film and Media Arts, with another $1 million pledged to an endowment that will fund senior film projects for Dodge College students. And, that's not all… since we are close to fulfilling that million-dollar endowment pledge, our board just approved a $1 million pledge to Chapman's proposed Center for the Arts naming the Women of Chapman Center Stage, and $500,000 to the building of Dodge College's Digital Media Arts Center and the naming of the Women of Chapman Grand Foyer.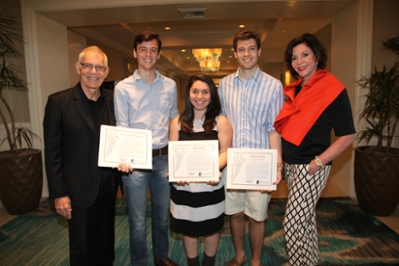 Today, we stand at a membership of 220, with a group of impassioned women "running the show." I do want to thank our group's presidents who carried on after Mary Lou passed the torch. You are all responsible for keeping this group viable and fun. Mary Dell Barkouras, Joan Riach-Gayner, the late Betty Belden Palmer, Adrienne Brennan, Karen Elliott, Leslie Cancellieri, Charlene Prager, and Adrienne again this year -- and I had a two-year stint in there as well.
Our programs have become legendary, from visiting Tony Duquette's legendary Dawnridge estate in Beverly Hills and meeting His Imperial Royal Highness Archduke Dr. Geza von Habsburg, the curator of Fabergé and the great-great-grandson of Austrian Emperor Franz-Joseph, to meeting Tony Bill, producer of the The Sting, winner of the Academy Award for Best Picture in 1973, and making fools of ourselves creating our own commercials while Dodge College film students filmed and edited us.
The friendships formed here are deep-felt and solid. I love this group because it is not a stereotype. There are ladies of all ages and all walks of life in the Women of Chapman, our official name as of July 1st, who have a common vision to help make Chapman University the best it can be. And, we are busting our buttons that Chapman has been selected as one of America's finest universities – and also as one of the "Best in the West" – in the 2011 edition of the independent education services company Princeton Review, and continues to be counted among the best in the nation by the prestigious U.S. News & World Report. Now, that's impressive!