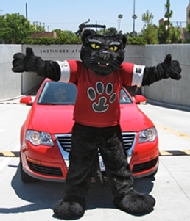 Chapman University has a mandatory parking permit policy implemented by the City of Orange. This policy is intended to promote on-campus parking to lessen the impact on the residents of Orange in close proximity to the university.
All university constituents (administrators, faculty, staff, and students) are required to have a Chapman parking permit and park in university owned or operated parking areas. Parking on city streets in front of a residence or a business may result in a $65 citation from the City of Orange and/or a referral to conduct for violating the Chapman University Parking Policy. 
Parking permits for the 22/23 academic year are available online now. 
(Annual parking permits are valid August to August and must be renewed online each academic year)
 Register Online Now:
Registration tutorial available in the right column under
"How to Register for a Parking Permit"
Once you complete the parking permit registration process, your license plate will be scanned to validate parking privileges.  Every administrator, faculty, staff, and student vehicle parked on campus must be registered by license plate and linked to a current parking permit on the parking permit portal.  Failure to register or update a plate prior to parking on campus may result in a citation.
Please be sure to review the Parking Policy and Plan (right column) to be sure you are aware of all the parking regulations and permit options prior to parking on campus.