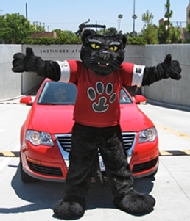 Chapman University has a mandatory parking permit policy implemented by the City of Orange. This policy is designed to promote on-campus parking so as to lessen the impact of street parking on the residents of Orange living in close proximity to the university. All university constituents – students, administrators, faculty and staff are required to have a parking permit and park in university owned or operated parking areas.  
So how do you get a permit? System will be available to register for a parking permit beginning April 2, 2018.

Site will be available beginning 4/2/18.  In the meantime please stop by Public Safety at 418 N. Glassell Street to obtain a temporary parking permit to avoid being cited.  Valid permits are required at all times.
Once the system is active and you register for a parking permit, your license plate will be used as validation until your permit arrives in the mail; permits will no longer be available to pick up in person.  Please be sure you verify your mailing address when registering.  Please e-mail Parking and Transportation Services at parking@chapman.edu with questions.
What type of information is required to register my vehicle?
Vehicle license plate number and VIN number (16-digit serial number on the front dash of  the vehicle – also listed on your registration card or insurance card).
Vehicle make (Chevrolet), model (Trailblazer), year, and color.
Driver's License Number.
Type of decal requested (commuter or resident student, faculty, staff; full-time or part-time).
I do not have a vehicle or use alternative means of transportation – how do I waive the parking permit fee?
Under certain conditions, the parking permit fee can be waived provided a Permit Fee Waiver is submitted online by the deadline and approved by Public Safety. Filing a false waiver and driving a vehicle to campus (including using a city issued Area-A permit to park closer to campus) may result in disciplinary action up to and including a $500.00 fine.
You access the waiver form following the same link as for Waiver Registration.
Type in your user name and password (supplied by Information Systems and Technology Department prior to the start of the Fall Semester. It is the same user name and  password used to access your e-mail and Web Advisor).
When prompted, select the waiver option. If you have a permit or transponder, you will be unable to waive the parking fee until those are returned to Public Safety.
After you click the waiver box you must indicate why you are requesting a waiver then click the proceed button.
After you have submitted a Waiver Form online (you must waive by 5:00 p.m. on Monday at the start of the 4th week of classes) please print off the confirmation page for your records.  Late submittals will result in the waiver being denied.
Student accounts will not be credited the parking fee unless the waiver reason is approved by the Parking Services Office.                       
I waived my parking fee and now I need a permit to drive to campus, what do I do?

Students should contact the Business Office at ocbusn@chapman.edu to charge your account for the  permit.
Once the account is charged, you can proceed to the registration site to register for a parking permit.
Faculty and Staff can log into the registration site to purchase a parking permit.