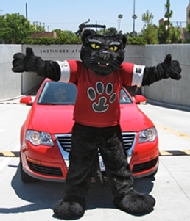 Chapman University has a mandatory parking permit policy implemented by the City of Orange. This policy is designed to promote on-campus parking so as to lessen the impact of street parking on the residents of Orange living in close proximity to the university. All university constituents – students, administrators, faculty and staff are required to have a parking permit and park in university owned or operated parking areas.  
Parking Permit Registration - System is now available to register for 2018/19 Annual Parking Permits

Parking Permit Registration System
Once you register, your license plate will be used as validation until your permit arrives in the mail; all permits will be mailed and no longer be available to pick up in person.  Please be sure you verify your mailing address when registering.  Please e-mail Parking and Transportation Services at parking@chapman.edu with questions.
Parking Permit Waiver Registration - System is now available to register for 2018/19 Waivers

Under certain conditions, the parking permit fee can be waived provided a Permit Fee Waiver is submitted online by the deadline and approved by Parking Services. Filing a false waiver and driving a vehicle to campus (including using a city issued Area-A permit to park closer to campus) may result in disciplinary action and/or a parking citation for violating the Parking Policy.
After you have submitted a Waiver Form online (Waiver must be received by the waiver deadline 02/15/2019) please print the confirmation page for your records.  Student accounts will not be credited the parking fee unless the waiver reason is approved by the Parking Services Office.                   
I waived my parking fee and now I need a permit to drive to campus, what do I do?

Students should contact the Business Office at ocbusn@chapman.edu to charge your account for the  permit.
Once the account is charged, you can proceed to the registration site to register for a parking permit.
Faculty and Staff can log into the registration site to purchase a parking permit.