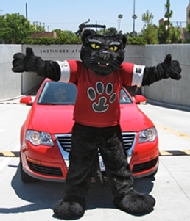 Chapman University has a mandatory parking permit policy implemented by the City of Orange. This policy is designed to promote on-campus parking so as to lessen the impact of street parking on the residents of Orange living in close proximity to the university. All university constituents – students, administrators, faculty and staff are required to have a parking permit and park in university owned or operated parking areas.  The 20/21 Parking Permits expire on August 20, 2021.  Parking permits for the 21/22 Academic Year will be available to register for beginning August 1, 2021.

Parking Permit Registration
Parking Permit Registration System
Once you register for a parking permit, your license plate will be used to validate parking privileges.  Every administrator, faculty, staff and student vehicle parked on campus must be registered by license plate number to a valid parking permit.  Please review the Parking Policy to be aware of all the parking regulations and permit options.  Please e-mail Parking and Transportation Services at parking@chapman.edu with any questions you may have.