»

Professional Services
Community Involvement Professional Service Programs
Free and Low-Cost Legal Services
The Military and Veterans Law Institute provides legal assistance to veterans, active duty military and their families. The Alona Cortese Elder Law Clinic provides legal assistance to senior citizens. The Bette and Wylie Aitken Family Protection Clinic provides immigration and family law assistance for victims of domestic violence. Finally, the Tax Law Clinic provides legal aid for disadvantaged taxpayers who otherwise could not afford representation.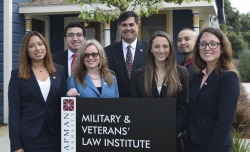 Low-Cost Mental Health Services
The Frances Smith Center for Individual and Family Therapy (also known as the Chapman University Community Clinic) offers counseling for the community on a sliding scale from $15 - $60 per session, based on the gross income of the family. Therapists are MFT trainees under the direct supervision of licensed clinical faculty.