»

Education
Community Involvement Education Programs
Chapman University is committed to making higher education accessible for all through various mentoring programs and partnerships with local schools and non-profit organizations.
Simon STEM Scholars
The Simon STEM Scholarship Program is a six-year process that begins during a student's junior year while attending Orange High School and continues through four years at Chapman University. Each year, five students are selected based on their GPA and desire to pursue a career in a STEM (science, technology, engineering, and math) discipline. After graduating high school, scholars are awarded a full scholarship to the University, including room and board.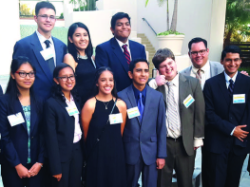 Higher Ground
Higher Ground is a nonprofit gang prevention program located in Anaheim that provides mentoring for youth and their families in at-risk communities. Undergraduates at the Dodge College of Film and Media Arts have the opportunity to guide young adults toward hope and self-esteem by assisting them in filming and editing their very own shows. Chapman professors teach workshops, highlighting post-secondary education, financial aid opportunities, and local issues that impact our community as a whole.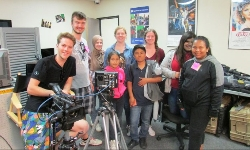 Friendly Center
Headquartered in the City of Orange, Friendly Center provides a variety of free programs for struggling families to get back on their feet. The University is proud to support this worthwhile organization through service on the organization's board of directors and in-kind and financial support. Additionally, the University places about twenty work-study students as tutors at the Friendly Center each year.