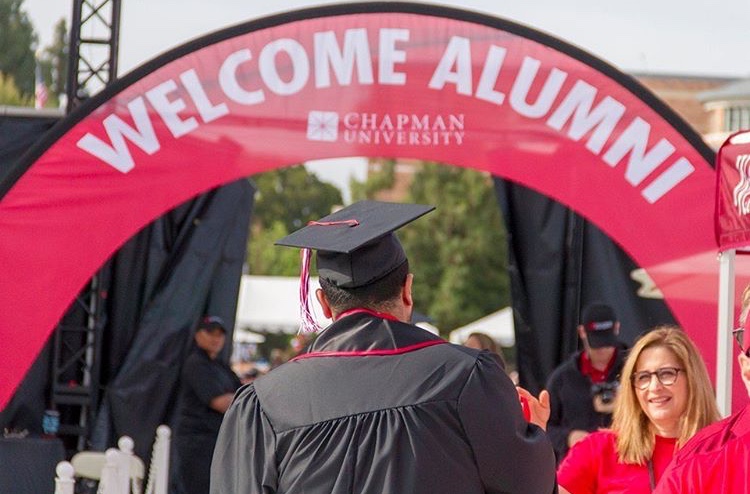 The Office of Sustainability and the Office of Diversity and Inclusion created the Regalia Reuse Program to offer a more sustainable, affordable option for students celebrating graduation. Reusing gowns prevents CO2 emissions from the production of new gowns and reduces emissions associated with transporting gowns across the country.
Give Your Gown
For the graduating classes of 2020 and beyond,  graduates have the option to donate their gown for future Chapman graduates to use! Rather than having it hang in your closet before you eventually throw it away (where it will remain in the landfill for hundreds of years), share your gown with fellow Panthers! Graduation regalia, typically worn for only 90 minutes, typically can be used for 10 years. Donate to any of the locations listed below.
Interested in Borrowing a Gown?
If you are interested in borrowing Regalia through the reuse program, please fill out this form.
Drop-off Locations:
Leatherby Library Lobby (Drop Box Available from July 30 - August 20)
Beckman Lobby (Drop Box Available from July 30 - August 20)
Public Safety Office (Drop Box Available from July 30 - August 20)
Facilities Management (625 W. Palm)
Alumni House (204 N Olive St)
Shipping Address: Facilities Management, Attn: Mackenzie Crigger/Office of Sustainability, One University Drive, Orange, CA 92866