»

Environmental Sustainability
Environmental Sustainability Community Involvement Programs
Chapman University is committed to a culture that promotes a sustainable future. Through green-focused educational programs, research, and community engagement, Chapman encourages its students, faculty and staff to help preserve the planet.
OHG Education Farm and Farmer's Market
With a unique collaboration between the University and the non-profit community group Orange Home Grown (OHG), the OHG Education Farm opened in May 2016, at 356 N. Lemon St. and teaches the value and know-how of producing locally grown food. Chapman supports the farm and weekly Farmer's & Artisans Market by providing the spaces to OHG, including restroom facilities, completely free of charge.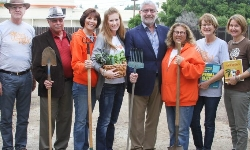 Community Clean-Up Crew
Chapman students canvas the streets surrounding the University campus Thursday – Sunday to pick up and dispose of litter left behind by visitors over the weekend. Approximately 23,000 pieces of trash are picked up each year by Chapman students in Old Towne.