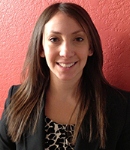 Through her self-determination and the help of Chapman's Mediation Clinic, ADR Board and two negotiation competitions, Amanda Singer (JD '13) quickly secured post-graduation employment in mediation before eventually becoming co-owner of the San Diego Family Mediation Center. Mediation jobs usually come after at least a decade of experience, but Amanda began her mediation career immediately following graduation and the Bar Exam.
In addition to earning her JD at Dale E. Fowler School of Law, Amanda simultaneously pursued a Masters of Dispute Resolution at Pepperdine University. Amanda said that her interest in mediation goes back to her undergraduate studies at Brandeis University. It was there that she took her first class on conflict resolution and mediation. After graduating from Brandeis, she worked in youth programming at a synagogue, but when the market crashed in 2008 she found herself out of a job like so many young Americans. This gave Amanda the impetus to aggressively pursue her field of interest.
Amanda chose Chapman University Fowler School of Law because of our renowned Mediation Clinic led by Professor David Dowling.
"Professor Dowling has been a great mentor to me and participating in his mediation clinic has been one of my best experiences at law school. The clinic has allowed me to gain hands-on experience mediating cases while I'm still a student; that definitely helped me obtain externships and a job in the area I want," she said.
Before landing her mediation position, Amanda found an externship at the San Diego Family Mediation Center after sending out emails to all the family mediation practices in San Diego. Through the contacts she made at the San Diego Family Mediation Center, Amanda was offered post-graduation employment at The Divorce Help Clinic in San Diego, and eventually returned to become co-owner of the San Diego Family Mediation Center.
"I think Chapman has done a great job of providing a variety of legal skills classes and clinics and I hope that they continue this in the future as it provides great experiences for students outside of the classroom," Singer said.