Roxanne Greitz Miller, Ed.D. 
Dean, Donna Ford Attallah College of Educational Studies
Donna Ford Attallah Professor of Teacher Education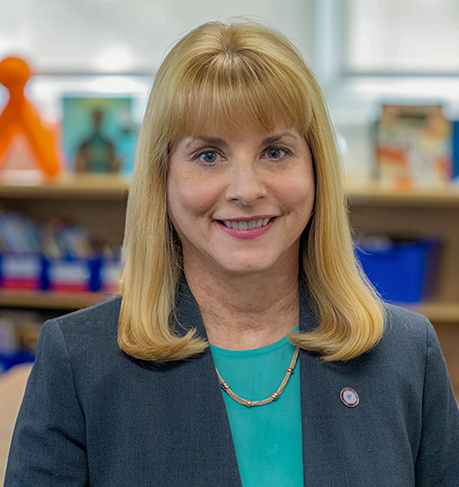 A member of Chapman's faculty since 2005, Roxanne Greitz Miller, Ed.D., professor of education, holds the Donna Ford Attallah Endowed Professorship in Teacher Education and has a joint appointment to Schmid College of Science and Technology. Dean Miller has taught and mentored students at the undergraduate, master's, and doctoral levels, for which she was awarded Chapman's highest recognition for teaching, the Outstanding Teaching Professorship, in 2014.
At Chapman University, Dean Miller previously served in the Provost's Office as Vice Provost for Graduate Education and  Director of the Institute for Excellence in Teaching and Learning (IETL). In Attallah College, she was formerly Assistant Dean of Undergraduate and Integrated Degree Programs and Coordinator of Secondary Education graduate programs. Dean Miller is also a two-time member of Chapman's Million Dollar Club for external research funding, with state and federal research grants representing more than $4.2 million throughout her career to date. In 2017, she completed Harvard University's Higher Education Management Development Program.
As a first-generation college student who was supported entirely by scholarships that enabled her to attend a private undergraduate institution (BS with Honors, University of Miami), and who then worked full time as a secondary science teacher throughout graduate school (M.S.Ed. and Ed.D., Florida International University), Dean Miller self-identifies with many of the economic and work-school challenges faced by Chapman students. Her grant projects, both at Chapman and the University of California, Riverside, where she was a National Science Foundation Postdoctoral Scholar, have supported numerous students with tuition scholarships, employment, and co-authorship on publications and conference presentations. 
Despite her administrative responsibilities, research background, and scholarly work, Dean Miller considers herself, first and foremost, to be a teacher. As she emphasizes to her students, "Teaching is not what you do; it is who you are." She continues to hold current teaching credentials in biology, chemistry, middle grades, and gifted education in both Florida and California. Away from Chapman, she volunteers on the Pet Therapy team of Children's Hospital of Orange County (CHOC), visiting pediatric patients with her complex-rated therapy dog, a Boston Terrier named Genie.