»

Safety with Animals
General
[3/12/20, updated]
Research, training, and testing with animals -- whether in the vivarium, classroom or the field -- bring to the forefront inherent risks and hazards associated with procedures and activities.  Both the IACUC and Office of Risk Management/Environmental  Health and Safety at Chapman want persons to be safe and protected.  Being safe is the responsibility of all, beginning with the individual who is actually performing the task.  While equipment like biological safety cabinets (BSCs), masks, and gloves can provide engineered protection, researchers, faculty, students, and others must assess for themselves the identified safety issues and work towards mitigating them collectively.

Below is a relevant section (pp. 18-19) in  the 2011 "Guide for the Care and Use of Laboratory Animals" about "Hazard Identification and Risk Assessment":
"The institutional OHSP (Occupational Health and Safety Program) should identify potential hazards in the work environment and conduct a critical assessment of the associated risks.  An effective OHSP ensures that the risks associated with the experimental use of animals are identified and reduced to minimal and acceptable levels.  Hazard identification and risk assessment are ongoing processes that involve individuals qualified to assess dangers associated with the program and implement commensurate safeguards.  Health and safety specialists with knowledge in relevant disciplines should be involved in risk assessment and the development of procedures to manage such risks.
"Potential hazards include experimental hazards such as biologic agents (e.g., infectious agents or toxins), chemical agents (e.g., carcinogens and mutagens), radiation (e.g., radionuclides, X-rays, lasers), and physical hazards (e.g., needles and syringes).  The risks associated with unusual experimental conditions such as those encountered in field studies or wildlife research should also be addressed.  Other potential hazards—such as animal bites, exposure to allergens, chemical cleaning agents, wet floors, cage washers and other equipment, lifting, ladder use, and zoonoses—that are inherent in or intrinsic to animal use should be identified and evaluated.  Once potential hazards have been identified, a critical ongoing assessment of the associated risks should be conducted to determine appropriate strategies to minimize or manage the risks.
"The extent and level of participation of personnel in the OHSP should be based on the hazards posed by the animals and materials used (the severity or seriousness of the hazard); the exposure intensity, duration, and frequency (prevalence of the hazard); to some extent, the susceptibility (e.g., immune status) of the personnel; and the history of occupational illness and injury in the particular workplace (Newcomer 2002; NRC 1997).  Ongoing identification and evaluation of hazards call for periodic inspections and reporting of potential hazardous conditions or 'near miss' incidents."
Below is an image that includes a list of hazards (e.g., biological, radiological, chemical, non-ionizing radiation, physical, laser) that should be evaluated during a Laboratory Hazard Assessment.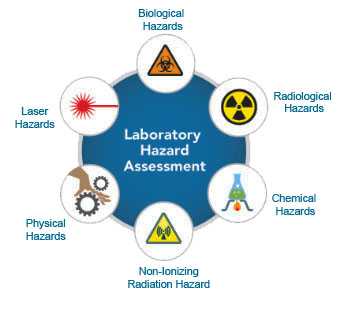 Laboratory Animal Occupational Health Program (LAOHP)
[7/28/20, updated]
At Chapman University, the OHSP (occupational health and safety program) is called the LAOHP.  By definition, the LAOHP is a dynamic program to constantly evaluate the risks and hazards associated with animal usage.  Basic topics include ergonomic issues which arise from repetitive motions, laboratory animal allergies (LAA) due to exposure to dander and urinary proteins, personal protective equipment (PPE), and zoonotic diseases (plural zoonoses) transmitted between animals and humans.  More details about the LAOHP are available at the Risk Management site.
The list of concerns can be infinite though:  being pregnant, being immuno-competent or -suppressed, handling sharps, disposing of medical waste, exposure to anesthetic gases, decontaminating oneself or an area in cases of contamination, bites, scratches, venoms, vaccinations, animal bio-safety levels (ABSL 1 thru 4), personal hygiene, reporting accidents, etc.  For this reason, the IACUC and EH&S have developed several measures for you to enroll in Chapman's LAOHP, to assess your potential animal exposure, to become informed, and to have the opportunity to obtain responses to any of these concerns.
What follows are the paperwork issues and steps which make up the Chapman LAOHP.

Lab Animal Occupational Health Questionnaire (LAOHQ):
Enrollment begins with the LAOHQ.  The LAOHQ (illustration at right) asks you to determine what kind of animal user you are, where you work with animals, how much animal work you expect to be doing, and what the known hazards are.  If you have a medical condition which potentially puts you at risk or you want to discuss any risks with a medical professional, you have the option to complete the HHBQ form (see next section).
Completion of the LAOHQ form is mandatory - and confidential - to work with animals and to have an animal use protocol approved by the IACUC.  It applies to faculty, students, animal care providers, and others who have direct and extensive contact with animals as defined by the IACUC and EH&S.
Health History Baseline Questionnaire (HHBQ):
The Health History Baseline Questionnaire (HHBQ or HHQ) was developed at Chapman as a medical form regarding specific concerns that are animal related for animal users to complete.  It is the complement to the LAOHQ for when you, as an animal user, want to have a private consultation with a medical professional for evaluation and advice when working with animals.  The form is available from Risk Management.  It is designed to be private and confidential.  
Authorization for Services form:
Risk Management must provide you an Authorization for Services form (Treatment Authorization) in order to visit with a medical professional.  It is obtained directly from the Risk Management office.
The combined process
Identify yourself as someone working with animals in some capacity (research, teaching, or testing purposes) at Chapman University.
Follow these steps to enroll yourself in the LAOHP.  NOTE:  This a general outline -- your circumstances may dictate a different approach.  A diagram to illustrate the process is available.
Obtain the one-page LAOHQ form.  Complete it by enrolling in the LearnUpon training program with EH&S, then answering the questions about your involvement with animals.  Please

do not provide any medical details

.  Submit it in LearnUpon.
The EH&S office will acknowledge receipt of your LAOHQ.  It will be evaluated for content, risk, safety measures, and any discrepancies.  Questions will be addressed back to you and possibly your supervisor.  When satisfactory, it will be noted that you have completed the LAOHP component of the animal use protocol, as applicable.
To reiterate, while reviewing your LAOHQ responses, personnel from the IACUC or EH&S may ask you further questions related to the type of animal work and protections.  For example, clarification may be needed about a response or advice (or a requirement) about PPE may be discussed.
If you responded wanting to see a medical professional, continue the "conversation" with EH&S to obtain the appropriate paperwork:  the HHQ and a Treatment Authorization Form.  You will be provided with additional detailed steps, as needed, by that office.
If a determination is made by Risk Management/EH&S, or due to the recommendations from the medical professional, that you will be required to use respiratory protection PPE, then the office will enroll you in a web-based medical evaluation process that meets the requirements of Cal-OSHA.  Such users will receive an email from Dawson Compliance, and will be expected to complete their confidential, online form to determine suitability to use a respirator.   If so approved, the user will receive further information from Risk Management/EH&S on securing the required fit-testing.
Know that your discussions and tests with medical professionals remain a private and confidential matter

with you

.  What

is shared

within the animal use program at Chapman (Risk Management, the IACUC, supervisors, etc.) are the appropriate practices you must take for your safety and protection while working with animals.  Examples include the appropriate use of PPE, other general health and safety techniques to avoid scratches and bites, and more. 

NOTE

:  Please do not send your private medical information to the IACUC office or to EH&S/Risk Management.
For the protection of everyone, please do ask for more information about your animal work from the IACUC, the health provider, Risk Management, and/or your supervisor/advisor.
Keep in mind that Chapman University wants you to be safe while working with animals.
In case of an accident...
Training in Lab Animal Safety
[4/1/20, updated]
The CITI training program provides a variety of information about risks and hazards associated with animal care and use.  Each animal-based encounter (in the vivarium, lab, field, etc.) is unique and needs to be clarified for work tasks and in the animal use protocol, addressing the specifics and including awareness of the specific risks and approaches to mitigating them.  Discuss needs for training with supervisors, PIs, and research team members.  Include evidence of appropriate training when called for in the protocol.

Training materials are developed and/or selected by University EH&S professionals who are knowledgeable in the evaluation and safe use of hazardous materials or procedures.  For example, you may subscribe to the curriculum called Biosafety/Biosecurity (BSS) from CITI (see the IACUC Training page for information).
Selected Sources of Safety Information and Related Committees
[4/8/20, updated]
This list should get you started on working safely around animals.  Contact the IACUC office for other assistance about laboratory animal safety.
The Office of Risk Management has oversight of a variety of safety concerns at Chapman.  An important component is the Environmental Health & Safety (EH&S) office which has responsibility over many animal-related functions, including general laboratory safety, biological safety, chemical handling and hazards, radiation and laser safety, emergency management, waste management, respirator training, and occupational health & safety.  EH&S helps to access Safety Data Sheets.
In collaboration with Risk Management/EH&S, the IACUC is also responsible for evaluating safety practices.  In part, that is done during protocol review and during its animal facility inspections, which are conducted at least semi-annually.
The vivarium manager and laboratory animal veterinarian can provide hands-on training with an emphasis on safe practices for both the human and the animal.  Contact the IACUC office for more information.
The Institutional Biosafety Committee (IBC), a component of EH&S, is responsible for oversight of studies with concerns about recombinant DNA, select agents, bio-toxins, and other potentially hazardous biological agents.  Resources including the Biosafety Manual and Biological Use Authorization (BUA) form are available at the EH&S site.  Review by the IACUC of an animal use protocol may require input from the IBC as a condition of approval.
Biosafety in Microbiological and Biomedical Laboratories (BMBL), 5th edition, is produced by the CDC's Office of Health and Safety and the NIH to provide national guidelines to promote the safety and health of workers in biological and medical laboratories.