Information Systems & Technology
»

Scheduling Panels

Ever need to reserve an on-demand conference room, or huddle space? With our on-demand conference room and huddle space reservation panels, you can now walk-up to reserve the space. Some spaces only allow for 30 minutes, while others are available for an hour.
Find a Scheduling Panel Near You
Buildings and Room Numbers
Beckman Hall

Bhathal Student Services
Crean Hall

Conference Room 125
Conference Room 132A

Keck Center - Swenson Hall

N107, 109, 110, 202, 203, 204, 205, 206, 303, 304, 305, 307, 308, 309

Leatherby Libraries

305, 420, B03, B12, B13, B14, B16, B17

Reeves Hall

Conference Room 111, 120, 201, 001 and 003

Wilkinson Hall
FAQs
Using the Scheduling Panel
The Scheduling panels are designed to allow users to book spaces across campus. On the bottom of the scheduling panels, there is a scrollable area that shows the listed and available time slots. The scheduling panel will display red for a current meeting or soft red for an upcoming meeting later in the day. Meetings can be scheduled via an Outlook calendar or with the walk-up option.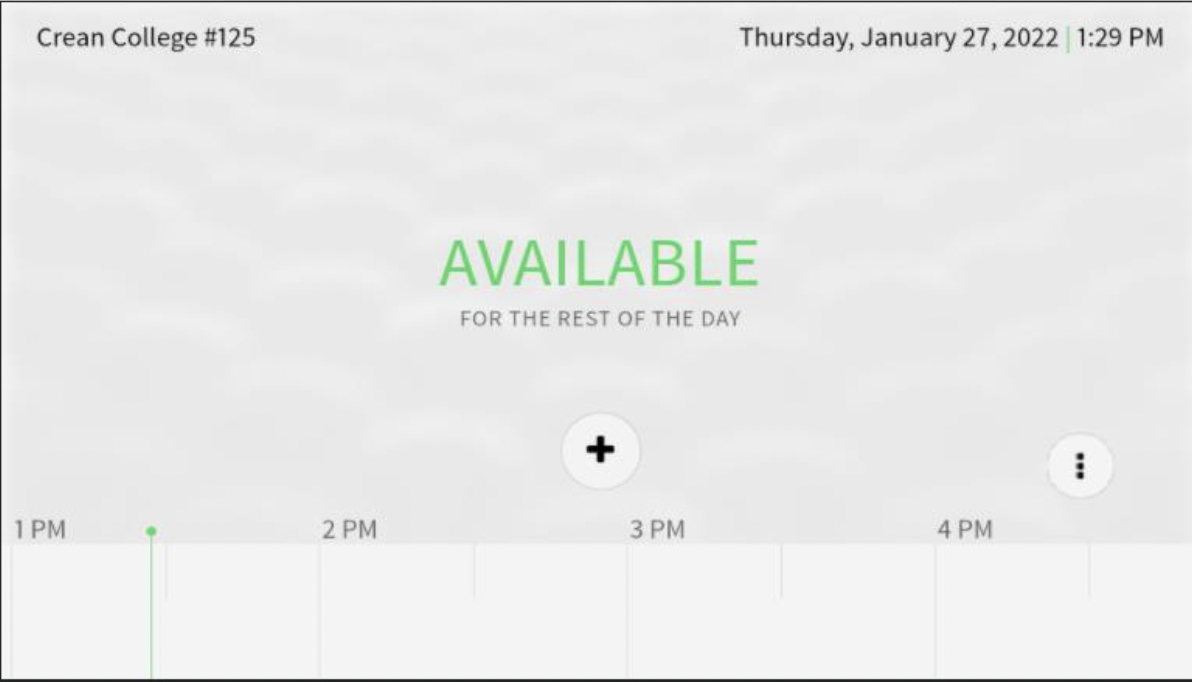 Walk-Up Reservation
To create a Walk-Up meeting or reservation for the designated space, simply select a block of time in the scrollable area; or, use the '+' sign located on the center of the screen. If you select the scroallable area, a pop-up window with options will appear to give your meeting a name and options to adjust the Start/End time. If you use the '+' sign located in the center of the screen, you will be able to reserve the space immedietly without needing to provide any information to reserve the space. After you have made your selections, taps on the "Reserve Now' option, and the space will be reserved for your meeting.

Reserves Space via Outlook
Scheduling a meeting at a location with a Scheduling Panel is easy. In Outlook, you create a meeting request, invite the designated space or location, include the room email as a required person. If the space or location is set to auto approve if there are no scheduled meetings then the appointment will appear on the panel. Other scheduling panels may request approval from the operations team.
Types of Feeds
On the scheduling panels, you will ONLY see one feed, whether its the Outlook Feed or 25Live Feed.
Outlook Feed is best used for divisional conference rooms, meeting rooms, and huddle spaces. The Outlook Feed option is managed through Outlook.
25Live Feed is best used for classrooms and shared spaces. The 25Live Feed option is managed through the 25Live Administrator in the Office of Event Scheduling.