»

BitLocker

BitLocker Drive Encryption is a security feature for Windows PCs.

It encrypts all data on the c:\ drive where the supported Windows operating system is installed. BitLocker encryption helps protect your data by encrypting it. Only someone with the right encryption key (such as a personal identification number or combination of username and password) can decrypt or unlock it.

Verifying Bitlocker encryption (Windows) 

Search for "bitlocker" on your Windows computer in the task tray, and select the Manage BitLocker application. Your current status is displayed, which should indicate "BitLocker on" for each of the drives installed on your computer. (See example below)
How do I install BitLocker?
How does it work?
BitLocker uses a hardware feature called a Trusted Platform Module (TPM). The TPM is a smartcard-like (chip) built in to the computer's motherboard by the manufacturer. BitLocker stores a recovery key in the TPM (version 1.2 or higher) to unlock the data when you log on.
When BitLocker is enabled, a secure "key" is generated using information from the physical computer components, hard drive information and other data. Once BitLocker is enabled, a recovery key is generated. The recovery key is used to gain access to the computer should you forget your password. Only authorized IS&T staff have access to this key which is stored in a secure location.
Requirements
To enable BitLocker, your computer must satisfy certain requirements:
Run a supported operating system(s):
Windows 10 – Education, Pro, or Enterprise edition
Windows 7 — Enterprise or Ultimate edition

For Windows 7, the Trusted Platform Module (TPM) version 1.2 or higher must be installed and enabled or activated (or turned on) by IS&T.
Note:  IS&T will enable the Trusted Platform Module (TPM) before a computer can be assigned and deployed
Will encryption affect my computer performance?
BitLocker encryption and/or encrypted hard drive data, in general, can have some effect on overall computer performance.  Link to official Msft or other site e.g. Dell for more info.
If my hard drive fails, can I retrieve my data?
It is always advisable to back up your data.  Please contact the Service Desk to have Code42 CrashPlan installed.  Should your hard drive fail, it can be very costly to recover your data.  A back up is your best option for recovery. Add link to code 42.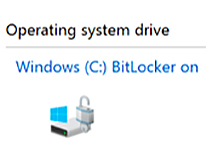 Did you know?
---
Encryption is now mandatory for all Chapman owned laptops and desktops.
Are you a MAC user?
---
MAC users should visit our FileVault page for information and installation instructions on encrypting their computer using that software.