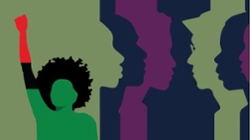 The Africana Studies minor is designed to examine the histories, cultures, societies, literatures, and arts of people of African descent, and their contributions to world civilization.
The curriculum takes a transnational approach to the study of the Black experience and places it in a comparative context of Africa and the African Diaspora. The goal of the interdisciplinary curriculum is to provide a personalized education of distinction through a range of core and elective courses that allow students to determine areas of emphasis.
With faculty advisement, students will select a tailored course of study that introduces them to the key themes, concepts, intellectual traditions, and political movements of Africana Studies, laying a strong foundation for practical application and social engagement through the critical interrogation of race, geography, and power.