»

Wilkinson College Dean's Directory
Dean's Office Student Workers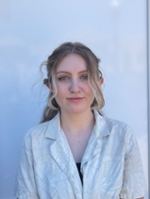 Fiona Bumgarner
Dean's Office Student Worker
wilkstu19@chapman.edu
Fiona is a sophomore at Chapman University where she will be majoring in Graphic Design. She is from a small town in Northern California, right between Sacramento and South Lake Tahoe. She started working in the Dean's Office in Fall 2022, where she is working as a Generalist in the front office. In her free time she loves to paint and draw portraits, and it's rare you'll find her without a cup of coffee or tea.
Bernadine Cortina
Dean's Office Student Worker
Bernadine Cortina is a senior majoring in English literature, rhetoric, and cultural studies. She also has two Interdisciplinary minors: Africana Studies and Ethnic Studies. She is a Pinay immigrant from Manila, Philippines who immigrated to Hayward, CA in 2018. She joined the Dean's Office staff in September of 2022, and works as a Peer Advisor, specifically as a generalist for all majors and minors in Wilkinson. In her free time, you can catch her brewing another cup of jasmine tea and making her way through her endless "to read" list.
Sarah Hart
Wilkinson College Student Newsletter Editor
wilkstu47@chapman.edu
Sarah Hart is a double major in Dance and English with a journalism concentration. She has been working as the student Wilkinson newsletter editor as of August of 2023, and also works at the university's rock-climbing wall. An Orange County native, Sarah dances in a local part-time modern dance company called Akomi Dance and writes for an independent, online publication called Fever Dream Zine about music and culture. Outside of school, she is passionate about veganism and enjoys hiking, reading, and going to concerts. She hopes to one day pursue a career that mixes writing and dance and is interested in art therapy and activism.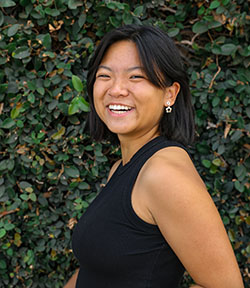 Lisa Wong
Wilkinson Social Media Coordinator
wilkstu39@chapman.edu
Originally from NYC, Lisa Wong '25, is a broadcast journalism and documentary major with a double minor in Chinese and Visual Journalism. She joined the Wilkinson Dean's Office staff in August 2022 working on maintaining its social media. She's also the video and podcast editor for The Panther on campus and loves to rock climb in her free time!
Where to find us!
---
Wilkinson College of Arts, Humanities, and Social Sciences - Dean's Office
101 Roosevelt Hall
Chapman University
1 University Drive
Orange, CA 92866
(714) 997-6947