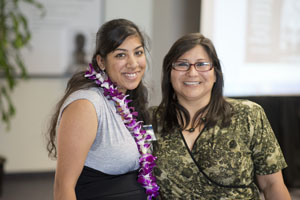 Whether you are considering a career in law, international business, government, film, public relations, advertising, health care, journalism, teaching... etc., we would like to suggest that a major/double major or minor in a world language will positively enhance your career options when you graduate. (Pictured: Cheverton Award Winner Priya Shah ('13 Double Major: History & Spanish) with Language Professor Dr. Pilar Valenzuela)
Mission Statement
The mission of the Department of World Languages and Cultures is to empower students to lead inquiring, ethical and productive lives as global citizens through the study of a world language, its literature and culture at the intermediate or above level. In today's world, mastery of a foreign language transcends geography and political borders while reinforcing communication and cross-cultural understanding.
Thinking about Grad School?
Across the country thousands of students apply for admission to graduate or professional school and there is perhaps no better way of catching the eye of graduate admission counselors than doing a major/double-major or minor in a modern language.
Our majors/minors and have gone on to various grad schools including, Tulane University Law School, University of Wisconsin-Madison and Middlebury College School in Paris, France, to name a few.
Degrees Offered
The Department of World Languages and Cultures at Chapman University offers a major and a minor in both French and Spanish, an individualized major in German, and a minor in Chinese, German, Italian, Japanese and Spanish Studies. Learn more
---

Study Abroad
World Languages and Cultures majors and minors can also take advantage of a rich array of study abroad opportunities with semester and year-long programs at such prestigious universities of higher education as the University of Granada (Spain), The American Institute for Foreign Studies (AIFS, Cannes, France) and many others. Our study abroad programs provide students with exciting professional opportunities such as the internship program at the world renowned International Cannes Film Festival. (Pictured above: AIFS, Cannes, France)
Before spending a semester abroad, you will meet with your faculty advisor in languages to select courses and to ensure that courses transfer back to Chapman so that you can fulfill not only courses required for your language major/minor, but also many general education requirements. It is essential that you enroll in a language class as of your first semester of registration so that you may be properly prepared for a fruitful study abroad experience during the fall or spring of your junior/sophomore year or so that you may complete the required courses for the major/minor.
Travel Courses
The Department of World languages offers travel courses in French, Spanish, Italian and Chinese.  You are able to travel internationally and get credit toward your language G.E.  Each Language program offers many interesting activities and opportunities to practice your target language while getting credit for your language requirement (101, 102 or 201).  Majors or minors can also take some upper level courses practicing for fluency while immersing themselves in the culture.
Some of the amazing courses offered during Interterm and Summer are: 
A tale of two cities travels to London and Paris
The French Rivera
Italian Language and Culture Immersion in Puglia and Sicily
Exploring Italy's Art Cities: Florence and Rome
Experience Spanish Language and Culture in Buenos Aires, Argentina 
Experience Spanish Language and Culture in Madrid, Spain