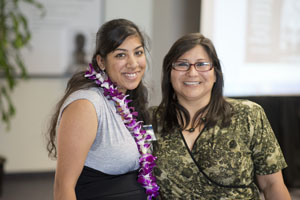 The Department of World Languages and Cultures would like to welcome you to Chapman University. Whether you are considering a career in law, international business, government, film, public relations, advertising, health care, journalism, teaching... etc., we would like to suggest that a major/double major or minor in a world language will positively enhance your career options when you graduate. Across the country thousands of students apply for admission to graduate or professional school and there is perhaps no better way of catching the eye of graduate admission counselors than doing a major/double-major or minor in a modern language.
The Department of World Languages and Cultures at Chapman University offers a major and a minor in both French and Spanish, an individualized major in German, and a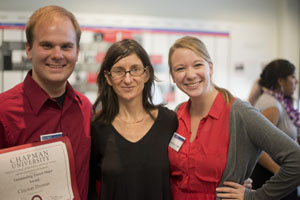 minor in Italian, German and in Japanese Studies. World Languages and Cultures majors and minors can also take advantage of a rich array of study abroad opportunities with semester and year-long programs at such prestigious universities of higher education as the University of Granada (Spain), The University of Paris IV: La Sorbonne (France) and many others. Our study abroad programs provide students with exciting professional opportunities such as the internship program at the world renowned International Cannes Film Festival. Future employers look favorably upon prospective applicants with a world language major or minor because they are the best prepared to enter an ever increasing global work force. The Peace Corps, recently directed by former Chapman University student Mr. Gaddi H. Vasquez, needs qualified applicants with linguistic proficiency in Spanish, French, and other world languages to fill assignments throughout the world.
(Pictured: 2013 Cheverton Award Winner Priya Shah with Language Professor Dr. Pilar Valenzuela)