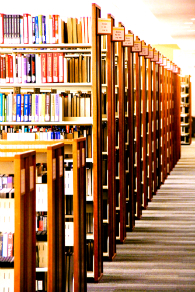 Because literature is one of the oldest and most human of activities, the Department of English encourages students to read with sensitivity and intellectual rigor, to write with clarity and creativity, and to find relevance to their own lives and the lives of others in humankind's literary record.
We offer a wide array of coursework in creative writing, journalism, literature, and rhetoric and composition. Creative writers take courses in fiction, poetry, and creative nonfiction, as well as in literature. Journalists take courses in reporting and writing, new media, editing, and literature. Literary scholars study literature of different periods, different genres, and various topics and authors. All English students are encouraged to complete internships in their field of interest.
The conversation among English students and faculty extends beyond the classroom, too. The department supports an active chapter of Sigma Tau Delta (English Honors Society), Calliope (student literary journal), The Panther (student newspaper,) and Prowl (student online magazine).
The John Fowles Center for Creative Writing and Tabula Poetica: The Center for Poetry at Chapman University host annual reading series that bring writers from around the world and around our neighborhood to the campus to interact with students. Recent visiting writers include Salman Rushdie, Rae Armantrout, Elizabeth George, Allison Joseph, Willis Barnstone, and many more. We invite you to explore the website to gain a better understanding of the opportunities we offer.
Graduates with degrees in English have gone onto a variety of careers including copyediting, advertising, software development, teaching, news reporting, and, of course, writing for publication. A degree in English has wide application, and faculty and advisors are happy to talk with students about graduate programs and future career options.