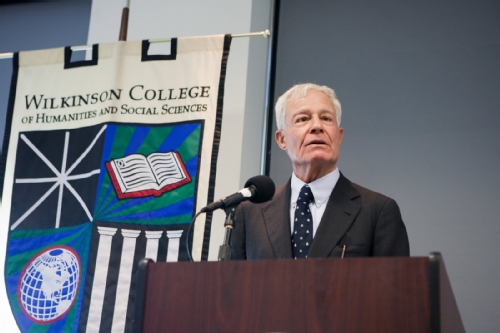 David C. Henley has been a member of the Board of Trustees of Chapman University since May, 1994.
Henley is a foreign correspondent, the former owner of a group of Northern Nevada and California daily and weekly newspapers, a retired Brigadier General in the Army National Guard, a former university administrator and journalism professor, and has been serving as Honorary Consul of Uruguay since 1999. He also is a past president of the Nevada Press Association.
He was city editor of the Daily Trojan student newspaper at USC, from which he earned a BA in journalism and an MA in political science. He also has a PhD in communications and journalism and was awarded a postdoctoral fellowship at UCLA.
The author of From Moscow to Beirut, The Adventures of a Foreign Correspondent published in 2013 by the Chapman University Press, Henley has reported from overseas for the Los Angeles Examiner, the Hearst, Ridder and Swift newspaper groups, and served as Washington, DC correspondent for the Los Angeles Examiner and the Hearst newspapers.
He was the journalism department chairman at the University of Wyoming for four years and taught five years at the USC School of Journalism, where he headed the school's news-editorial department.
At Chapman University, Henley is a member of the Board of Trustees' Academic Committee, the Wilkinson College Dean's Executive Council, the International Affairs Council, and he and his wife, Ludie, sponsor the annual Wilkinson College Henley Social Sciences Awards ceremony and provide yearly funding for the Ludie and David Henley Social Sciences Research Laboratory and Henley Fellows.
Henley and his wife, who celebrated their 50th wedding anniversary in 2013, live in Newport Beach, as do their three children and three grandchildren.