Department of Dance
---
Frequently Asked Questions
»

Frequently Asked Questions

Below are answers to some of the most common questions asked about the Department of Dance at Chapman.
Admission Questions
Do I have to audition to become a Dance major?
Yes. Everyone who wants to major in Dance must submit a pre-screening audition video. Select applicants will be invited to an online Zoom session to meet faculty and current students, view student work, and participate in a Q & A. If you are invited to a Zoom session, you will be notified via e-mail and have an option to choose from a variety of dates. These invitations are only sent after review of your pre-screening audition video upload.
You can review our
How to Apply page
for detailed instructions for applying to the B.A. in Dance program.
How many students apply to the dance program each year, and how big is the class size?
Typically, we receive about 300 applications for the dance major every year. Our target first-year class size is 30-35 students.
Are there scholarships available for dance students?
Yes. Chapman provides Academic Merit Awards to students who qualify based on their academic achievements. The Department of Dance has a limited number of Talent Awards for incoming first-year and transfer students.
To be eligible, you must list dance as your first-choice major on your application. The audition for entrance, whether in person or by video, serves as the basis for Talent Award consideration. If you receive an award, you'll be notified about it when you get your financial aid package, or shortly thereafter.
What criteria is used to evaluate dance-major applicants?
As a dance-major applicant, you'll be evaluated on your dance technique, performance quality and artistry. 
We will assess your strength, coordination, flexibility, ease of movement, use of dynamics and appropriate use of facial and full-body expressive qualities required by the choreography. The faculty also considers the interview and all written application materials in their decision.
In addition to dance criteria, the Office of Admission also reviews your grades, letter of recommendation and test scores (if you provide them).
Can I choose either the B.A. or BFA program?
All dance majors begin in the Bachelor of Arts program track. The B.A. program provides a comprehensive education in dance technique and training and is also the track for a dance major who wants to double-major in another discipline or gain a more broad-based education.
The BFA track is for those who want more intense dance training. It begins in the junior year and requires additional technique, performance, choreography and elective courses. You can audition for the BFA program in the spring of your sophomore year.
Dance Program Questions
How many dance productions are there each year?
Several! You can check our event calendar for upcoming dance events. 
In the fall semester, the Department of Dance produces:
The Fall Faculty Dance Concert, which is choreographed by Chapman faculty and guest artists.

Masters at Chapman, which includes intimate master classes and performances with world-renowned artists.

Chapman Celebrates

, where Dance students perform in a Broadway-style musical theatre production for the university's annual scholarship fundraiser.
In the spring semester, the Department of Dance produces:
Two separate Works in Progress concerts for first-time choreographers.

Concert Intime featuring junior choreographers.

The Spring Dance Concert featuring senior choreographers.

BFA Dance Showcase featuring seniors.
There are also many student dance club performances through out the year. For more information, please visit the student clubs page listing for dance-related organizations.
Do dance students have the opportunity to work with guest artists for master classes and residencies?
Yes! Students have worked with Ido Tadmor, Pilobolus and Complexions Contemporary Ballet Company on choreographic residencies.
They also have had master classes with dancers from:
Hubbard Street

Alvin Ailey American Dance Theater

The cast of

La La Land

 

Cirque du Soleil®

Batsheva Dance Company

Pilobolus

Complexions Contemporary Ballet Company

Syncopated Ladies

Micaela Taylor

and many more!
Can first-year students be cast in dance concerts?
Yes. All dance majors are eligible to audition for all Department of Dance productions.
Dance majors who receive a Talent Award are required to audition for all productions.
Is there a dance minor?
Yes. We offer a 22-credit minor in Dance. You need to apply and audition to become a dance minor. The audition is held in the spring semester and is only open to first-year and sophomore students who have majors other than Dance.
Can dance minors and other non-dance major students perform in Department of Dance productions?
Some productions are open to dance minors and other non-dance majors:
The Department of Dance spring student-choreographed concerts

The Chapman Dance Alliance concert

Chapman Celebrates

Masters at Chapman
In addition, non-dance majors are eligible to audition for any of the student dance clubs, including the
Chapman Dance Team
, 
the hip-hop group Team Shaka, and the Chapman Tap Ensemble. The Fall Faculty Dance Concert is limited to dance majors only.
Can you work professionally while a Dance major?
We do not have a mandate against professional work while enrolled at Chapman. However, there are strict class-attendance policies in all dance classes and your grades are affected by attendance.
If you have an opportunity to work professionally while in school and this work interferes with academic requirements, consider a leave of absence. We also encourage you to use summer and winter breaks to work professionally.
Why would the Department of Dance be a great place for me?
You'll get superior training in technique and performance combined with exceptional academics. 

Chapman has one of the few university dance programs that offers equal numbers of courses in ballet, modern and jazz dance, along with tap, hip-hop, ballroom, yoga and conditioning.

We focus on choreography in our program, and young choreographers are closely mentored throughout their creative process.

The Department of Dance supports Chapman's emphasis on personalized education by helping you find your strengths and passion in dance. 

We exclusively focus on undergraduate education and every year provide multiple opportunities for performance, choreography and research, as well as leadership and participation in student dance organizations.

You'll get career support and guidance from your

own full-time performing arts career advisor

.
CoPA Blog
---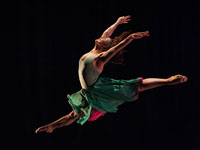 Get the latest news on the people and productions that make our school shine.