Hall-Musco Conservatory of Music
»

B.M. in Performance, Vocal

There are many options for students who wish to major in music with an emphasis in vocal performance at Chapman University. The Bachelor of Music in Vocal Performance is an intensive degree program which focuses on classical vocal training. The B.M. in Pre-Music Education Certification with a vocal emphasis and the B.A. in Music with a vocal emphasis also offer the opportunity to study voice and related vocal subjects, such as Music History, Composition, and others.

Our voice faculty and coaches are all accomplished, active performers who bring the knowledge and insight of performing to their students.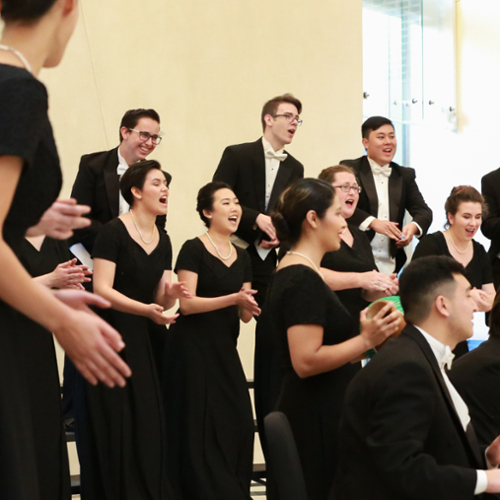 Voice majors take a minimum of a one-hour private voice lesson each week plus a master class within their voice studio weekly or bi-weekly. Upper division majors may also work weekly with a coach/accompanist and an Alexander Technique practitioner. In addition to solo recitals, the Hall-Musco Conservatory of Music also presents a complete opera in addition to opera scenes every year. Voice majors are also required to take acting and dance classes within the College of Performing Arts.
As an undergraduate program, our students have the opportunity to perform solos and roles in numerous concerts and opera productions. Historically, Chapman graduates matriculate to prestigious graduate schools and apprentice programs. Many alumni are currently performing in major opera houses worldwide or are outstanding teachers throughout the United States.
Program Learning Outcomes
PLO1: Musicianship
The student will demonstrate fluent musicianship skills, including an understanding of music theory, proficiency with aural skills and sight reading, knowledge of different musical styles and historical eras, a demonstration of basic piano skills, the ability to rehearse and perform collaboratively and contribute to an ensemble, proficiency with basic music technology, and an understanding and demonstration of basic improvisation techniques.
PLO2: Performance
The student will acquire performance skills as a soloist on his or her main instrument, including knowledge in technique, historically appropriate performance styles and repertoire and sight reading.
PLO3: Leadership
The student will observe and experience leadership roles and professional opportunities, in order to prepare for a career as a performer.
PLO4: Pedagogy
The student will employ pedagogical techniques and skills relevant to his or her instrument family.