Hall-Musco Conservatory of Music
»

Meet the Current Temianka Scholars
David Anderson
BM Violin Performance, Music Business minor, '23
David started playing the violin through his 5th-grade public school music program at the age of 10. He later began taking private lessons with accomplished violinist and conductor Alyze Dreiling in 7th grade. Throughout his high school career, he has played in multiple orchestras including the Youth Philharmonic Orchestra, Civic Youth Orchestra, and Grossmont College Symphony Orchestra. David served as concertmaster for his high school orchestra from 2017–2018. He earned awards such as the Certificate of Merit Branch Honors Award in 2016, 2018, and 2019, along with 3rd place in the Senior Scholarship section of the Music Teachers Association of California. David plays an eclectic range of music genres: in addition to classical music, he performed electric violin in a high school rock band, and currently writes and produces alternative/indie music with a friend in a self-formed group called Lo-Tide.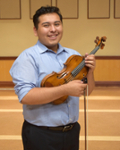 Adrian Fernandez
BM Violin Performance, '24
The current recipient of the Temianka-Saparoff Violin and Bow, Adrian started playing the violin at the start of 8th grade, though prior to that, he started playing the viola at his public middle school in 5th grade. He switched shortly after his aunt gifted a violin to him from a local music store for his 13th birthday. He was on his own, learning as much as he could with the classes at school and without any private lessons from the day he started. It wasn't until his junior high school year, after his mother got a second job, where his family was finally able to pay for private violin lessons for him with the distinguished Dutch violinist, pianist, and conductor Antoine van Dongen. After a year of tremendous and vigorous work, Adrian earned the co-concert master seat in his high school's symphony orchestra. From there, he auditioned at various universities and colleges, ultimately enrolling at his top choice, Chapman University, as a violin performance major. Adrian Fernandez has earned the assistant concertmaster seat in previous years at Chapman University. He was also recently invited to be concertmaster at the Cremona International Music Academy in the summer of 2022 as well as given the opportunity to be in the Temianka Quartet for the 2022-2023 Academic school year. Adrian hopes to become not only a soloist, a chamber musician, but also a teacher in his later years.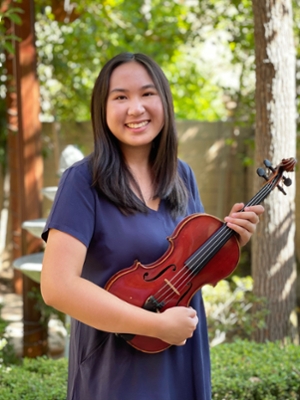 Kaitlyn Irianto
BM Violin Performance, '25
Kaitlyn started learning the violin at the age of eight as an after-school activity. Though it was only after she went to the London Olympics to perform in a local orchestra that she fell in love with performing on the violin. Throughout her high school career, Kaitlyn held principal seats in the Orange County Youth Orchestra and in her high school orchestra. She was also a violinist in her school performance group, Montage, and played at various venues for groups such as CHOC Children's Hospital and the Pasadena Tournament of Roses Foundation. Kaitlyn is also thankful to have been part of the Musishare Young Artists Program under William Fitzpatrick's direction, having performed in masterclasses from Philip Setzer, Cho-Liang Lin, and Cornelia Heard. Kaitlyn looks forward to growing both musically and personally while studying violin performance at Chapman.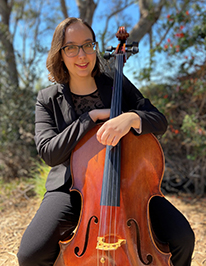 Kelly Picton
BM Strings Performance, '25
Kelly started playing the cello when she was 11 years old through her public school music program in Carlsbad, California. She began taking private lessons early on under Michelle Tan Owen with the Suzuki method and has since studied with accomplished cellists such as Caitlin Fahey Crow, Yao Zhao, and Laszlo Mezo. Kelly has also taken masterclasses with Warren Hagerty and Marek Szpaklewicz and currently studies under Yoshika Masuda at Chapman University. Throughout her career, her passion for music has led her to play in multiple orchestras, ensembles, and quartets of various genres. She served as the principal cellist for her high school's award-winning chamber orchestra 2018–2020, as the assistant principal for her unified school district's honor orchestra in 2019, and was the cellist and gig coordinator for her high school's primary quartet 2016–2020. Outside of school, Kelly attended the National Cello Institute Program at Pomona College in 2017, played as principal cellist in 2019 in the Disney Performing Arts Conservatory summer program, and served as a cello teacher 2019–2020 in the non-profit organization Young Leaders in Music Education. Kelly enjoys performing a variety of music genres and has collaborated with local San Diego band Trouble in the Wind and a Chapman favorite, Kishi Bashi. Kelly has played in the City Ballet of San Diego Orchestra since 2019 and North Coast Symphony Orchestra since 2018, performs around Southern California as a free-lance musician, and continues to play in various ensembles at Chapman University while studying cello performance.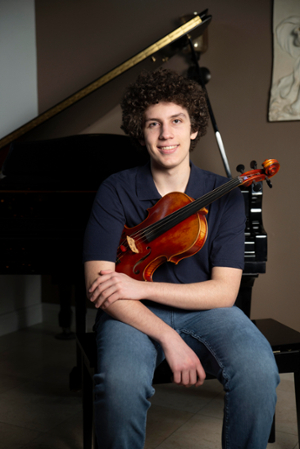 Eleas Vrahnos
BS Computer Science, BS Electrical Engineering, Business Administration minor, '24
Eleas has been playing the viola since 4th grade, originally starting out with the violin in 1st grade. His school music teacher at the time, Dr. Tammy Yi, recommended that he switch from the violin to the viola, and he has stuck with it ever since. Eleas participated in all his schools' orchestras and quartets before Chapman. He earned multiple Director's Awards from his elementary and middle schools and became principal viola during his later years in the Orange County School of the Arts high school symphony orchestra, under Maestro Christopher Russell. Others he has studied viola under at OCSA include Dr. Nicholaus Yee and Mr. Phillip Triggs. He has also participated in numerous outside ensembles before college, including Prelude Chamber Strings under Helen Weed, Pacific Symphony Santiago Strings under Mrs. Irene Kroesen, the Pacific Symphony Youth Orchestra under Dr. Roger Kalia, and the Pacific Symphony Youth Quartet. He was very fortunate to have studied under Mr. Robert Becker, former Strings Director at Chapman, for almost all of his viola-playing life. Eleas mainly studies computer science and electrical engineering at Chapman University, but is happy to continue playing the viola at Chapman.
Past Teminaka Scholars
2021 – 2022 Scholars
David Anderson BM Violin Performance, Music Business minor, '23
Sebastian Brumm B.S. Computer Science, General Music minor, '22
Adrian Fernandez
BM Violin Performance, '24

Grace Gee
BM Violin Performance, Interdisciplinary Major "The Modern Experience," '21 (fall)

Kaitlyn Irianto
BM Violin Performance, '25

Danielle Liu*
BM Violin Performance, BS Health Science, '22

Eleas Vrahnos
BS Computer Science, BS Electrical Engineering '24
*Temianka-Saparoff Violin and Bow Recipient
2020 – 2021 Scholars
Perit Amirzhaikyzy, BM Violin Performance, '21
Sandra Bouissou, BM Violin Performance, '21*
Chitra Dassapa, BM Violin and Viola Performance, BA Public Relations and Advertising, '21
Adrian Fernandez, BM Violin Performance, '24
Grace Gee, BM Violin Performance, fall '21
Danielle Liu, BM Violin Performance, BS Health Science, '22
Devon Lopez, BM Cello Performance, BS Political Science, '22
Cayden Walters, BM Viola Performance, math minor, '22
*Temianka-Saparoff Violin and Bow recipient
2019 – 2020 Scholars
Perit Amirzhaikyzy, '21
Sandra Bouissou, '21*
Grace Gee, '21
Danielle Liu, '22
Chris Nelson, '20
2018 – 2019 Scholars
Perit Amirzhaikyzy, '21
Sandra Bouissou, '21
Grace Gee, '21
Haley Hedegard, '19
Danielle Liu, '22
Chris Nelson, '20*
Lisa Yoshida, '19
*Temianka-Saparoff Violin and Bow recipient
2017 – 2018 Scholars
Arturo Balmaceda, '18
Sandra Bouissou, '21
Alicia Correa, '18
Haley Hedegard, '19
Chris Nelson, '20*
Lisa Yoshida, '19
Rafael Zepeda, '18
*Temianka-Saparoff Violin and Bow recipient
2016 – 2017 Scholars
Arturo Balmaceda, '18
Eileen Kim, '17
Chris Nelson, '20*
Lisa Yoshida, '19
*Temianka-Saparoff Violin and Bow recipient
2015 – 2016 Scholars
Arturo Balmaceda, '18
Chris DeFazio, '16
Eileen Kim, '17
Ethan Reed, '16
Chloé Tardif, '16*
Lisa Yoshida, '19
*Temianka-Saparoff Violin and Bow recipient
2014 – 2015 Scholars
Arturo Balmaceda, '18
Kimberly Levin, '16
Chloé Tardif, '16*
Emily Uematsu, '15
*Temianka-Saparoff Violin and Bow recipient