College of Performing Arts
»

Facilities

Explore the College of Performing Arts facilities which provide an unmatched personalized education and real world experience for our students.
Musco Center for the Arts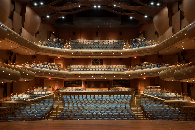 Covering 88,000 breathtaking square feet, Musco Center for the Arts provides a state-of-the-art venue for College of Performing Arts students to hone their talents, discover their voices and visions, and prepare for rich and rewarding lives in the arts. The Center's façade spans the entire block at the northwest corner of campus, staking out a highly visible arts identity within the community.

Designed by renowned architects Pfeiffer Partners, with acoustics by world‑renowned Yasuhisa Toyota of Nagata Acoustics, Musco Center boasts an intimate seating chamber with 1,044 seats on three levels and a full-scale stagehouse capable of grand spectacle or lush symphonic sound with its unique orchestral shell in place.  Opened in March 2016, Musco Center serves as a dynamic focal point for campus life and the broader community, giving notice that world-class arts education and artistic achievement has found a new home in Southern California.
Partridge Dance Center
With a design that allows for dialogue among students and room for intense creative and academic activity, the Partridge Dance Center's 10,000 square foot space promotes a strong sense of community and artistry among the 85 Chapman dance majors and approximately 300 other students who take classes here.  Located at the corner of Cypress & Maple, this state of the art dance facility was completed in August 2002.
Salmon Recital Hall
Located inside of Bertea Hall, Salmon Recital Hall serves as the main performance hall for many Conservatory of Music events. One can hear a range of musical presentations including vocal and instrumental recitals as well as performances by the major ensembles on occasion. Salmon Recital Hall often houses the esteemed guest artists and master teachers who present special performances, workshops and master classes for the Conservatory of Music at Chapman University.
Waltmar Theatre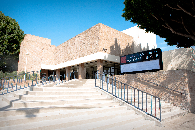 The Waltmar Theatre is home to many Theatre and Dance performances.  It is also used as a classroom space to allow students the opportunity to hone their skills as professional artists.  Located at the corner of Palm and Center, Waltmar Theatre was built in 1976 and seats 240.
Oliphant and Bertea Halls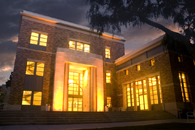 The opening of Oliphant Hall in Fall 2004 marked the beginning of a new period of growth for the Conservatory of Music. This state-of-the-art facility houses a modern infrastructure capable of meeting the needs of faculty and students well into the new millennium. This building houses the John and Donna Crean Orchestral Recital Hall, Thomas G. and Willy Hall '64 Lecture Hall, M. Douglas Music Collection, Steeve and Helen Kay Music Technology Center, Margaret Richardson Office of the Dean, Marcus and Louise Pomeroy Conference Room, and the Margaret Richardson Administration Center in addition to teaching studios, practice rooms and a lecture hall.
Along with the construction of Oliphant Hall, Bertea Hall underwent an extensive renovation to bring both facilities to new levels and to allow Bertea to continue to serve the students and faculty in the best way possible. The key donors for the original Conservatory of Music facility were Richard and Hyla Bertea. The building houses the Salmon Recital Hall, Shanley Choral Room, Stoltz Student Lounge, Steeve Kay Technology Center, classrooms, teaching studios and practice rooms.
O.L. Halsell Foundation Studio Theatre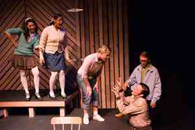 The O.L. Halsell Foundation Studio Theatre is a flexible space used for both classes and performances.  This intimate venue can seat up to 50 patrons.
Entertainment Technology Center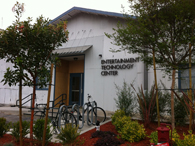 Chapman's Entertainment Technology Center is home to the CoPA Production Department. At the Entertainment Technology Center, students have the opportunity to take classes in the Entertainment Technology field and are given the opportunity to build the scenic and costume elements for all of Dance, Theatre, and Opera productions.