»

Fowler School of Law - Administration

Chapman University Dale E. Fowler School of Law owes its success in large part to the dedication and hard work of its administrative team. Below is a list of senior administrators working to support the school's mission.
Matthew J. Parlow
Dean and Donald P. Kennedy Chair in Law
(714) 628-2678
parlow@chapman.edu
Prior to joining Chapman University Dale E. Fowler School of Law in 2016, Matthew J. Parlow was the Associate Dean for Academic Affairs and a Professor of Law at Marquette University Law School, where he taught Property, Land Use, Legislation, Urban Redevelopment, and Professional Sports Law (with Major League Baseball Commissioner Emeritus Bud Selig). In 2010-11, the students voted Dean Parlow as the winner of the James D. Ghiardi Award for Outstanding Teaching, Student Body Support, and Scholarship. He previously taught at Chapman University School of Law, where he was voted Professor of the Year in 2007-08. In addition to his administrative duties at the law school, Dean Parlow is on the board of directors of several non-profit organizations and has been appointed to a number of local and state government task forces, including, most recently, the Regional Cultural and Entertainment Capital Needs Task Force. He also serves as a consultant to professional sports leagues and teams, and advises local, state, and national officials on a variety of political, legal, and policy matters. Prior to his academic career, Dean Parlow was an associate with the Los Angeles firm of Manatt, Phelps & Phillips, LLP, specializing in real estate, land use, environmental, and local/state government law. He also served as a law clerk for the Honorable Pamela Ann Rymer of the United States Court of Appeals for the Ninth Circuit. Dean Parlow holds a JD from Yale Law School, where he was an editor of the Yale Law and Policy Review and the Yale Journal on Regulation, and a B.A. from Loyola Marymount University. Dean Parlow's scholarship focuses on local government law, land use, urban redevelopment, and sports law. His articles have appeared in the Colorado Law Review, Temple Law Review, Oklahoma Law Review, and Virginia Sports and Entertainment Law Journal, among other journals.
Marisa S. Cianciarulo
Associate Dean for Academic Affairs
(714) 628-2612
cianciar@chapman.edu
Marisa S. Cianciarulo is a specialist in immigration law with a human rights focus at Chapman University Fowler School of Law. She founded Chapman's Bette and Wylie Aitken Family Violence Clinic in 2006 and served as its director until 2017. She currently serves as the Associate Dean for Academic Affairs.
Dean Cianciarulo received her B.A. from the Catholic University of America, her JD from American University Washington College of Law, and her M.A. from American University School of International Service.
From 1997-2012, Dean Cianciarulo represented people from Central and South America, Afghanistan, Africa, Asia, Pakistan, and Eastern Europe in political asylum and other immigration matters. Prior to joining the faculty of Chapman University in 2006, Dean Cianciarulo practiced immigration law in the Washington, D.C. area, served as a staff attorney with the American Bar Association's Commission on Immigration, and taught in the Villanova Law School Clinic for Asylum, Refugee and Emigrant Services. Dean Cianciarulo's research focuses on vulnerable immigrant populations and the intersection of gender and immigration. She has published numerous articles in academic journals, including the highest-ranked journals in the country on gender and the law and human rights law.
Dean Cianciarulo has taught Civil Procedure, the Family Protection Clinic, Gender and Sexual Orientation and the Law, Refugee Law, and Remedies at the law school. She has also taught Immigration and Refugee Law and Policy in the undergraduate Honors Program. Dean Cianciarulo has been active with diversity initiatives and student-sponsored events across the university. Law students voted Dean Cianciarulo Professor of the Year in 2010, and in 2017 the university awarded her the Valerie Scudder Award for outstanding achievement in teaching, scholarship, and service.
Jayne Taylor Kacer
Associate Dean for Student Affairs
(714) 628-2641
kacer@chapman.edu
Jayne Taylor Kacer is the Associate Dean of Student Affairs and an adjunct member of the law school faculty. Dean Kacer earned her JD cum laude from Loyola Law School in 1985.
While in law school, Dean Kacer was Co-Chief Notes and Comments Editor for the Loyola of Los Angeles Law Review and was a member of the law school's trial advocacy team. She graduated in the top two percent of her class and was selected to be a member of the St. Thomas More Law Honor Society.
After graduating from law school, Dean Kacer became associated with the Orange County-based law firm of Rutan & Tucker, LLP and was made a partner in the firm in 1993. During the course of her career in private practice, Dean Kacer primarily handled large, complex civil litigation matters and civil appeals in both federal and state courts. She began teaching legal research and writing at Chapman's Fowler School of Law in 2001 as an adjunct professor.
In 2004, Dean Kacer left her practice to accept a full-time position at Fowler School of Law. She was selected by the students as Professor of the Year for 2006-2007. In addition to her teaching and administrative duties, Dean Kacer has served as a faculty member for the National Institute of Trial Advocacy (NITA) on the subject of depositions. She has taught Remedies; Pre-trial Civil Practice; Practice Preparation; Legal Research and Writing; and Mediation Clinic.
Donald J. Kochan
Associate Dean for Research & Faculty Development and Professor of Law
(714) 628-2618
kochan@chapman.edu
Donald J. Kochan's scholarship focuses on areas of property, administrative law, natural resources, law & economics, and jurisprudence, among others. He has published more than 35 scholarly articles and essays in well-respected law journals. His work has been cited in dozens of books (including many leading law textbooks) and more than 325 published law review articles, and his articles have been downloaded more than 13,000 times from SSRN and BePress.
Dean Kochan is an elected member of the American Law Institute (ALI); and he was appointed by ALI in July 2016 as an Adviser to the Restatement of the Law Fourth, Property project. He was also elected as a Life Fellow of the American Bar Foundation in 2014. Dean Kochan received the 2014 Valerie Scudder Award from Chapman University, a merit-based award selected by peers in recognition of outstanding achievement in scholarship, teaching, and service, and one of the highest honors given to a faculty member at the University.
Among his numerous activities, Dean Kochan served as the 2016-2017 Chair of the Planning and Nominations Committee for the AALS Section on Associate Deans for Academic Affairs & Research. He currently is Chair of the Real Property Legal Education Committee and Co-Chair of Trusts & Estates Legal Education Committee for the ABA Real Property, Trust & Estate Law ("RPTE") Section; a Contributing Editor of the "Keeping Current-Property" section in Probate & Property, the bi-monthly magazine of the ABA's RPTE Section; serves as the Chair for the Section on Property Law for the Association of American Law Schools (AALS); serves as the Secretary of the AALS Real Estate Transactions Section; serves as the Vice-Chair of the Committee on Environment & Natural Resources Regulation for the ABA Section on Administrative Law & Regulatory Practice; and serves as an inaugural co-editor and founder of the Property Section of JOTWELL.
Dean Kochan received his JD from Cornell Law School, where he was a John M. Olin Scholar in Law and Economics and managing editor of the Cornell International Law Journal. He received his B.A. from Western Michigan University, magna cum laude, with majors in both political science and philosophy and where he studied as the John W. Gill Medallion Scholar and was honored as the Presidential Scholar (awarded to the top graduate in the political science department). After graduating from law school, Dean Kochan was a law clerk to The Honorable Richard F. Suhrheinrich of the United States Court of Appeals for the Sixth Circuit.
Amy Rogan-Mehta
Associate Dean for Administration
714-628-2509
roganmehta@chapman.edu
Prior to joining the administrative team at Fowler School of Law, Amy Rogan-Mehta was the Associate Dean for Student Development at Marquette University Law School in Milwaukee, Wisconsin. At Marquette, she oversaw the law school's academic success and student affairs offices. Dean Rogan-Mehta previously practiced law at the Milwaukee firm of Reinhart Boerner Van Deuren s.c., where she was a member of the Product Distribution and Franchise Team and the Software, Technology and Licensing Team. She also served as an intern to the Honorable Diane S. Sykes of the Seventh Circuit Court of Appeals and a research assistant to the Honorable Russell D. Feingold. Before pursuing a legal career, Ms. Rogan-Mehta worked as a social worker and mental health therapist at various non-profit and healthcare organizations located in Southeastern Wisconsin and Minnesota. Dean Rogan-Mehta graduated first in her class from Marquette University Law School. She also holds a master's degree from Columbia University in the city of New York and graduated with a bachelor's degree, cum laude, from St. Catherine University in Saint Paul, Minnesota.

Justin Cruz
Assistant Dean of Admission and Diversity Initiatives
(714) 628-2594
jucruz@chapman.edu
Justin Cruz earned his BS in Industrial and Systems Engineering with Honor from the Georgia Institute of Technology in Atlanta, Georgia and his JD from Washington University School of Law in St. Louis, Missouri. While in law school, Dean Cruz was Managing Editor of the Washington University Law Review and received the CALI Excellence Award for his work in the Intellectual Property and Business Formation Clinic. After graduating from Washington University, Dean Cruz worked in the area of intellectual property law as in-house counsel for a fortune 500 company. Prior to joining Chapman, he served as Associate Dean of Student Affairs at Barry University School of Law in Orlando, Florida, and as Assistant Director of Admission at Thomas Jefferson School of Law (TJSL) in San Diego, California. In addition, Dean Cruz was an adjunct professor at TJSL where he taught in the Intellectual Property Law Practicum course. Prior to his career in law, Dean Cruz worked as an engineer for Caterpillar, Inc. He currently serves in various diversity leadership positions including as a member of the Law School Admission Council (LSAC) Diversity Committee and as a standing executive committee member for the Annual Meeting of Law School Diversity Professionals (AMLSDP). He also previously served as Vice Chair for the American Bar Association (ABA) Young Lawyer's Division Minorities in the Profession Committee (MIPC) and Mentorship Chair for the Law School Admissions Minority Network Group.
Linda Kawaguchi
Hugh and Hazel Darling Foundation Library Director and Professor of Law
(714) 628-2537
kawaguch@chapman.edu
Linda Kawaguchi has two decades of law school library experience, including positions at Berkeley Law at University of California - Berkeley, University of Washington, University of Michigan, and Gonzaga University School of Law. She attended the University of Idaho where she received a B.A. in English; University of Washington, where she received a M.S. in Library Science; and, University of Idaho, where she received a JD. Linda is a member of the American Association of Law Libraries, American Bar Association, Association of American Law Schools, and more than a dozen additional library and law-related organizations. She has presented numerous papers on advanced legal research, critical thinking and legislative intent. She teaches advanced legal research.
Richard Faulkner
Director of Academic Achievement Program and Assistant Professor
(714) 628-2663
faulkner@chapman.edu
Richard Faulkner is an alumnus of Chapman University Dale E. Fowler School of Law, graduating cum laude in 2004. He earned his B.A in English from California State University, Fullerton. While a student at Chapman, he served as the Senior Notes and Comments editor of the Chapman Law Review, was an executive board member of the Appellate Moot Court Honor Board and spent two years as a Dean's Fellow for Legal Research and Writing. Following law school, Professor Faulkner was a practicing family law litigator, handling a variety of cases at the trial and appellate court levels. He became an adjunct professor at Chapman's Fowler School of Law in 2006, teaching Legal Research and Writing and Remedies, and joined as a full-time faculty member in 2007.
Dr. Ronald L. Steiner
Director of Law Graduate Programs and Professor
(714) 628-7356
steiner@chapman.edu
Dr. Ronald L. Steiner oversees the LL.M. program at Chapman University Dale E. Fowler School of Law. He earned a B.A. from Lafayette College; an M.A. from University of Delaware; a JD (Order of the Coif) from the University of Southern California Law School; and a Ph.D. in Political Science from the University of Minnesota. Dr. Steiner served as a clerk for Judge Ferdinand F. Fernandez of the United States Court of Appeals for the Ninth Circuit, and as an extern for Justice Miriam Vogel of the California Court of Appeal. He worked for several years with the major international law firm of Sidley Austin, handing appellate and law-intensive litigation, including telecommunications regulatory proceedings before the FCC. In addition, he served in 1999 and 2000 as Deputy Counsel on the California Governor's Blue Ribbon Advisory Panel on Hate Groups. On a recent leave from the Fowler School of Law, he served as a temporary Deputy District Attorney for Orange County, California, handling misdemeanor arraignments, felony preliminary hearings, and a six-day jury trial. His scholarship generally examines the intersections of law and public policy, including his doctoral dissertation, "The Interpretation of Treaties and the Constitution of Native American Identity" (1993). His recent articles on "The Rise and Fall of Miranda Warnings in Popular Culture" and "Policy Oscillations in California's Law of Premises Liability" have been extensively cited in legal scholarship and commentary. Dr. Steiner also has taught in Chapman University's Political Science Department and undergraduate Honors Program. He was named Chapman's Faculty Member of the Year in 2006, and is the winner of a number of other teaching awards. He has taught Criminal Law, Criminal Procedure, Legislation, Private Law as Public Policy, Criminal Law in the Political Process and Introduction to American Law (international LL.M.).
George Willis
Director of the Tax Law Clinic, Associate Clinical Professor and Administrator of the Graduate Tax Programs
(714) 628-2531
gwillis@chapman.edu
George Willis earned his B.S. in Finance from California State University, Long Beach and earned his JD from the Chapman University Fowler School of Law. He has achieved numerous advanced certifications in varied areas of development. Prior to joining Fowler, he was a sole practitioner in tax, business and estate planning. He worked for the Internal Revenue Service, Estate and Gift Tax Division, and at the First American Corporation under their general counsel. As a member of the ABA section for Taxation, he is actively involved with the Committee for Low Income Taxpayers and serves as the moderator of their listserv. He also performs pro bono work as a member of the 9th Circuit Court of Appeals Pro Bono Panel, and as an attorney-volunteer for the Public Law Center in Orange County, California. George is also a popular speaker in the fields of estate planning, business and tax matters at private events throughout Southern California. He has taught Tax Procedure and Administration Clinic, U.S. Tax Court Clinic and Wills & Trusts.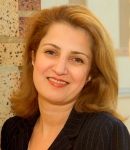 Maryam Isles
Registrar
(714) 628-2522
misles@chapman.edu
Maryam Isles is responsible for administering the school's academic operations relating to registration, schedule of classes, records maintenance, examinations, grades, and graduation. She earned both her bachelor's and master's degrees from California State University, Fullerton. Prior to joining Chapman, she served as director of student services and as registrar for the Southern California College of Business & Law, where she also taught as part-time faculty for general education courses. Since 1999, she has served as admissions coordinator and counselor for the Fowler School of Law admissions office, becoming registrar in 2001. She is a member of the American Association for Collegiate Registrars and Admission Officers (AACRAO) and the Pacific Association of Collegiate Registrars & Admissions Officers (PACRAO), and has presented at AACRAO's and PACRAO's conferences. She also served as an area representative (2007 – 2008) and board member (2008 – 2011) for the National Network of Law School Officers.
David Finley
Director of Communications and Lecturer
(714) 628-2565
dfinley@chapman.edu
David Finley joined Chapman University Fowler School of Law in 2006. In addition to five years of litigation practice, he worked for more than a decade as an editor and publisher of legal books. From 1994 to 1999, he served as managing editor and marketing director at James Publishing, and in 1999, he founded Litigation One Publishing, a publisher of litigation-focused practice guides. He served as president of Litigation One until 2005, when it was acquired by Thomson West Publishing. He is author or co-author of more than two dozen litigation practice guides and is recognized as the nation's most widely published author on the subject of "in limine" motions. He currently serves as co-chair of the Institutional Advancement Section of the Association of American Law Schools (AALS), and previously served as the section's communications track chair. He is a frequent AALS panelist, moderator and program planner. He earned his JD from University of California, Hastings College of the Law, where he was a member of the Moot Court Honors Board and a Moot Court Teaching Fellow. He earned a B.S. degree in Business Administration from California State University, Long Beach, where he graduated cum laude. He has previously taught California Motion Practice and Legal Research and Writing at Chapman's Fowler School of Law.
Kelly Farano
Business Manager
(714) 628-2693
farano@chapman.edu
Kelly Farano earned dual B.S. degrees in Finance, Real Estate and Law and International Business from California State University, Long Beach, and earned her MBA from Chapman University Argyros School of Business & Economics. Before becoming Fowler School of Law's business manager in 2017, she worked since 2010 at Laguna Woods Village as a financial services manager, budget and financial planning supervisor, and budget analyst. She previously worked at the Irvine Company as a commissions staff accountant and at Blackdot Wireless as a junior financial analyst.
Learn More About Chapman Law