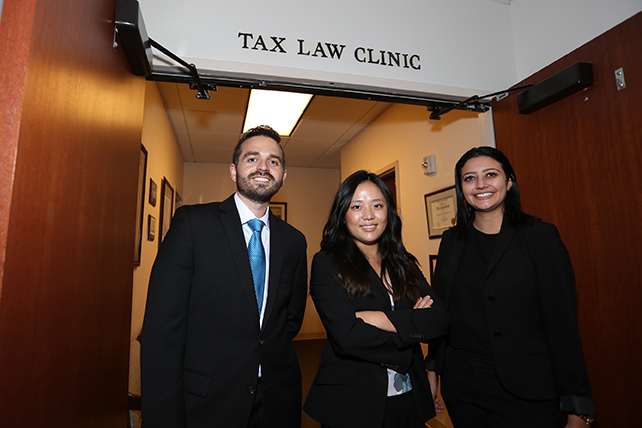 The Chapman University Fowler School of Law offers a tax law emphasis as part of the Juris Doctor program, which gives students a solid foundation in an area of law that impacts both individuals and businesses. Attorneys from many diverse practice areas encounter tax-related issues when representing their clients, and Chapman's tax law emphasis program is designed to expose students to a variety of tax issues encountered in practice.  Graduates who satisfy the tax law emphasis requirements earn a notation on their transcript and receive a certificate upon graduation.
In addition, an LL.M. in Taxation degree is offered at Chapman, giving students who wish to pursue further specialization in tax the opportunity to earn an advanced degree. For JD students, the program offers the chance to interact with practicing tax lawyers and access to comprehensive tax law resources. Students who complete prescribed tax law courses while pursuing the JD degree will also be able to get a head start towards the LL.M. in Taxation degree. Between JD and LL.M. tax courses, a student may receive up to 12 units of credit towards their LL.M. in Taxation at Chapman. This represents close to half of the 27 required credits to earn the degree, and can significantly reduce the time and expense of obtaining your LL.M.
Real-World Experience
Chapman is the only law school in the nation to offer both trial and appellate level tax clinic courses.  In the trial level clinics, students represent taxpayers before the Internal Revenue Service or in the U.S. Tax Court on a pro-bono basis. Students gain valuable client interviewing skills and apply negotiation, advocacy and trial litigation techniques while providing a service to taxpayers who might otherwise lack legal representation. Chapman tax clinic students have served thousands of unrepresented taxpayers, saving them in excess of a million dollars in tax. In the appellate level clinic course, students focus on writing appellate amicus curiae briefs in a novel or complex cases that impact tax law or policy.
Our extensive tax program has allowed law students and graduates to be placed in permanent and summer positions with prestigious law firms, the Internal Revenue Service, and the tax law departments of major accounting firms. Students may also participate in externships with the Internal Revenue Service, the Department of Justice Tax Division and the California State Board of Equalization.