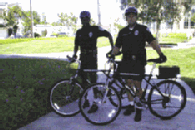 Chapman University Public Safety website
Chapman University Parking Services website
Note: you will be leaving the Fowler School of Law website.
Public Safety, located on University Drive, is a ten-officer unit authorized by Chapman University to protect the campus community and property. The main purpose of the department is to create an environment that is most conducive to education. Public Safety performs many police-type functions on university property, such as:
Patrol the campus 24 hours a day in cars, on bicycles and on foot
Answer calls for assistance and emergencies
Report crimes and other emergencies
Traffic and parking control
Vehicle and bicycle registration
Personal property engraving
Crime prevention programming
Safe ride and escort services
Assisting with student conduct issues
Serving at alcohol related events as security
For more information, please feel free to contact us.
418 North Glassell Street
Orange, California 92866
Phone: (714) 997-6763
Fax: (714) 744-7863
email: PublicSafetyStaff@chapman.edu
Public Safety Homepage