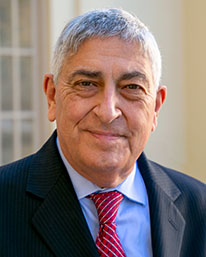 Mario Mainero
Professor, of Academic Achievement and Bar Services
The Gray Family Professor of Law and Associate Dean for Bar Preparation and Academic Achievement

Dale E. Fowler School of Law
Expertise: Local Government; Law and Politics; Public Employee Pension Law; Evidence and Trial Practice; Bar Examination and Admission to the Bar
Office Location: Kennedy Hall 439
Education:

Claremont McKenna College, Bachelor of Arts
The University of New Mexico, Master of Arts
The University of New Mexico, Juris Doctor
Biography
Mario Mainero is the Associate Dean for Academic Achievement and Bar Preparation at the Chapman University Dale E. Fowler School of Law. In this role, he administers the Fowler School of Law's bar preparation program, which includes his for-credit bar preparation course, which at Chapman is titled Select Topics in American Law, and a free supplemental bar preparation program each winter and summer.
From 1995-1997, he served as an Adjunct Professor of Law at Chapman, teaching Legal Research and Writing and California Civil Procedure. and from 1999-2001, he served as an Adjunct Professor of Law at Whittier Law School, teaching Legal Skills. From August 2001 to January 2007, he served as a full-time Professor of Law and Director of the Academic Success Program at Whittier Law School, where he also served as Associate Dean for Student and Graduate Academic Support. In that capacity, Professor Mainero developed Whittier Law School's academic support and bar preparation programs, including an early bar preparation program that eventually doubled Whittier's bar passage rate to nearly 60% on the July 2006 California Bar Exam. At Whittier Law School, Mainero taught a number of courses, including Legal Analysis Workshop, a for-credit bar preparation course that taught essay writing and analysis in each of the bar courses, Evidence, Torts, Legal Skills, and Law Practice Theory and Economics. He was named Teacher of the Year at Whittier Law School for the 2005-06 Academic Year. From December 2006 to February 2010, Mainero served as the Chief of Staff and Senior Policy Advisor to Orange County Supervisor John M.W. Moorlach.
Mainero received his undergraduate degree in Political Science cum laude from Claremont McKenna College, his Master's Degree in Political Science, including a minor in Research Methodology and Statistics, from the University of New Mexico, and his JD, magna cum laude, from the University of New Mexico.
Recent Creative, Scholarly Work and Publications

Evidence: The California Code and the Federal Rules (West 7th Ed. 2019)

"We Should Not Rely on Commercial Bar Reviews to Do Our Job: Why Labor-Intensive Comprehensive Bar Examination Preparation Can and Should Be a Part of the Law School Mission," Chapman University Legal Studies Research Paper Series 15-1, The Social Science Research Network Electronic Paper Collection: http://ssrn.com/abstract=2546001 (2015); Chapman Law Review, Vol. 19, No. 2 (2016)

Lecturer, BarBri Evidence, January and June, 2013

Lecturer, BarBri Evidence

Author and Lecturer, Aspen Publications' "Bar Edge" Bar Exam Study Product, in Evidence and Business Associations