"I am a citizen of the world, I am a student of life, I am hungry, I'm foolish and I will never say no to knowledge."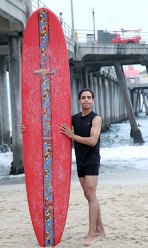 Osama Mohammad Zaid (LL.M.) is a member of Green Peace and the United Nations Refugees Aid Agency—and loves attending Chapman University Fowler School of Law because it's located in Orange County where surfing is a way of life. Osama, who hails from Saudi Arabia, says his heart led him to surfing.
Osama was introduced to American culture at a very young age. He recalls the friendly American contractors who were stationed in Saudi Arabia while working for Aramco Oil Company. He loved learning about the west through their interesting stories. "I am a citizen of the world, I am a student of life, I am hungry, I'm foolish and I will never say no to knowledge," says Osama. This is his mantra—and he can repeat it in English, Arabic, Turkish and Norwegian.
Before coming to Chapman, Osama attended Imam Muhammad Ibn Saud School of Law where he studied the Islamic perspective of human rights, jurisprudence and trade. He specialized in Islamic Law and worked in real estate until 2011 when he joined Wall Street Institute in Saudi Arabia. After the Wall Street Institute, Osama headed to Portland, Oregon to attend Lewis and Clark College. After enduring the cold and cloudy atmosphere in Portland, Osama moved to sunny San Diego, California where he rekindled his love for surfing and attended Kaplan International Colleges & Interax International Institute for business management, marketing and advertising.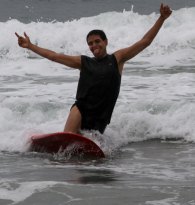 Although Osama says he'd rather "make one million smile than one million dollars," he is a young entrepreneur. While in San Diego, he teamed up with his Belgian roommate named Diego. Diego came up with a plan to make and sell Belgium waffles and Osama contributed with a marketing strategy that increased sales at the farmer's market. The locals in San Diego loved the original and rustic taste of an original Belgian waffle.
When asked why he became more interested in law than marketing, Osama replied, "I wanted to study Arabic law because it has not been introduced to the western culture and western law has not been introduced very well in Saudi Arabia." He came to Chapman University Fowler School of Law to study both international and western law and begin to blend both cultures together through international trade.
Osama recommends that other international students should study law in America because they would have lots of options. "America is very diverse and has done a great job of clarifying the laws; this makes people more friendly, easy going and open," said Osama.
After he graduates from Chapman University Fowler School of Law, Osama hopes to use his new understanding of international and western law to serve his country of Saudi Arabia.