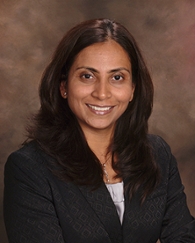 Nilima Shah (LL.M. '13) says, "I always wanted to become a lawyer." She grew up with stories about her great grandfather who studied law alongside a select group of gifted Indian law students in England. "My whole family admired what he accomplished. I internalized that respect and hoped that one day future generations would feel the same sense of awe and admiration for me," Nilima said. She earned her bachelor of commerce and law degrees in India then immediately moved to the United States. Nilima was busy adapting to a new country and taking care of her family, but never lost sight of her lifelong dream of becoming a lawyer.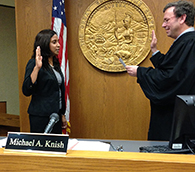 A few years after Nilima arrived in the United States she decided to attend paralegal school to test her English proficiency, considering that English is her third language. "Communication had always been my strong suit in India, but it now seemed very difficult here in America," she said. She graduated with a 4.0 GPA and her Professor Michael Knish told her that she would make an excellent lawyer if she decided to go to law school. She worked as a paralegal for San Bernardino County Superior Court and several private law firms for seven years. After a few months of working in immigration, she decided to get her license to practice law. Ten years later she took her attorney's oath with Professor Knish who is now a judge in San Bernardino Superior Court's family law department (see picture on right).
To practice law in the United States, a Juris Doctor (JD) degree is required. With a bachelor of law degree from India that is equivalent to the JD, Nilima still needed to meet certain prerequisites to take the California state bar exam and become a practicing attorney. She decided to get her LL.M. degree to meet the eligibility requirement. Nilima compared the LL.M. programs offered by several law schools, and found Chapman's Fowler School of Law to be the most flexible and overall the best option for her studies.
Nilima's Experience at Fowler School of Law
Nilima quickly bonded with her classmates and professors. She took advantage of every opportunity provided to her. She joined the Immigration Law Society and the Public Interest Law Foundation, serving as a board member for both student organizations. She helped organize the Deferred Action for Childhood Arrivals (DACA) panel at Fowler and the American Immigration Lawyers Association (AILA) panel. She said that the most valuable tool was the bar prep course taught by Professor Mario Mainero and his team. "Without it I could not imagine passing the California bar exam in my first attempt," she explained. Nilima also had the opportunity to take Professor Marisa Cianciarulo's Refugee Law class and participate in the Bette and Wylie Aitken Family Protection Clinic, where she handled immigration law matters under the direction of Professor Cianciarulo. "Learning about the international refugee law and the asylum process for immigrants exiled from their homes as a result of war and bigotry has given me a whole new perspective to look at the immigration law." This experience left a lasting impression on Nilima. She said, "helping a real client obtain her U visa status has inspired me to continue providing pro bono legal services to immigration clients."

"Immigration is the greatest passport that anybody in the world could hope for. It provides the freedom to live and work anywhere in the world. As an immigrant to the United States, I have seen the incredible opportunity first hand. Bringing those opportunities to others and helping them make their dreams come true is my passion." – Nilima Shah

Where Nilima is Today
Nilima currently works as an attorney with Paragon Law Firm, a full-service law firm specializing in U.S. immigration and nationality law.
A Note from Nilima to Future Students Thinking of Taking the Bar Exam
"Preparing for the bar exam is the most difficult thing a future attorney will face. Sure it was nerve wracking to study 12 hours a day for 3 months BUT if I can do it, anybody can do it. My mentor said 'don't be afraid.' I took those words seriously and I believe 'when there is a will, there is a way.' There is no secret to passing the bar exam except hard work and believing in yourself."