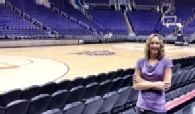 Courtney Lewis ('09), has landed a job as the Associate Counsel for the Phoenix Suns, an NBA franchise.  Throughout her entire 3L year at Chapman, Lewis had an unpaid externship with the Los Angeles Angels of Anaheim. This opportunity broadened her professional network, which eventually led her to her first job out of law school, the Legal Counsel for the Phoenix Coyotes, an NHL franchise.  During her two-year tenure with the Coyotes, she managed the day-to-day operations of the legal department during a turbulent time as the team had filed for bankruptcy in May 2009 and was seeking an owner.
In March 2012, Lewis transitioned from the Phoenix Coyotes to the Phoenix Suns where she currently manages the legal day-to-day operations for the Phoenix Suns, the Phoenix Mercury (a WNBA franchise) and the US Airways Center.
Lewis said, "In both graduate school and law school, the ability to supplement my classroom learning with practical experience gave me a competitive advantage and the tools necessary to land my dream job as in-house counsel for a professional sports team.  More specifically, Chapman's externship program granted me the opportunity to work with the well-respected in-house counsel of the Los Angeles Angels of Anaheim, David Cohen. Had Chapman not provided me the externship opportunity with the Angels, undoubtedly my journey to becoming an in-house counsel would have been more circuitous and taken longer."