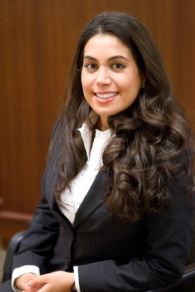 Ranna was born in London and grew up living both in the United Kingdom and Southern California. The majority of her education took place in London, (to which she attributes her unique accent). She completed her law undergrad in England, and explains the legal system in England is very different. For example, one can complete an undergraduate degree in law in England, while in America, an undergrad degree is required to enter law school to achieve a JD, and an individual must have a JD and be bar certified before embarking on an LLM. (post-graduate) degree in law. Initially, Ranna completed her undergraduate degree – a BSc degree in Project Management for Construction at University College London. She was quickly employed by a big construction company and making good money at the young age of 21. Nevertheless, she always wanted to do law, but had reservations because she didn't think she was academically strong enough.
Ranna worked for one year, and then applied to the College of Law – one of two such schools in England, and also the only college in England that permits students who pass all exams on the first attempt and get good grades, to receive not only a graduate diploma in law, but also the international law degree called the LLB. After one receives a law degree in England they then must specialize—either become a solicitor (non-litigator) or a barrister (in essence an advocate of the court). English law firms are divided like that, and barristers are self-employed. Becoming a barrister in England is a harder route to pursue - there are some 120,000 practicing solicitors and between 15,000-16,000 barristers. Ranna stopped working to pursue the barrister route and her law degree. The first year at English Law School was very intensive for Ranna - suddenly finding herself in competition with many other people. There was a huge dropout rate. During this first year, Ranna also did an internship at the Los Angles District Attorney's office and knew then she wanted to practice law in the states. "The criminal justice system in England has loop holes and the general public does not have a lot of faith in the system," she says.
When she applied online for the internship for the L.A. DA Ranna had a skeptical view of the American justice system. Her views were similar to those held by many in Europe, that "America is a trigger happy, gun loving country shooting criminals." After her internship, she realized that the stereotype couldn't be further from the truth.  She came away from that experience with the utmost respect for law enforcement and the criminal justice system alike. She was fascinated by the sheer dedication she saw both from the deputy district attorney who she was working with, and the detectives involved in the cases. She knew then that this was the career for her. Back in England, the Bar Vocational Course (BVC) is the second year for the barrister course. When Ranna started the BVC, while she was fully committed to the program, she knew she wanted to be in L.A., working for the District Attorney's Office, so she began researching how to practice in the states. With an English law degree she would need certain prerequisites to take the California bar.
Discovering Chapman…
The California State Bar online lists ABA accredited schools and that's how she found Chapman.  When she discovered Chapman's trial advocacy program she says she "fell in love with it because she wanted to be a prosecutor." She loved the campus, saying, "This is still the most beautiful campus I have ever seen. My aunt and mother went to my interview and parked in front of the global flags and hoped that I would get accepted here." Ranna started the program in early August 2010. She remembers showing up to her first class, which had 100 students in it, with paper and a pencil and a highlighter and everyone else had a laptop. "In England, everything is written." Ranna worked to get used to American laws and teaching systems. For example, a fundamental difference between American and English law is in England there are no objections, "one must wait politely." In America, there are 30 different types of objections, "which was like running free in a candy shop" Ranna remembers of her trial advocacy classes. She initially became overzealous in objecting but eventually toned it down. Her second to last and last semesters, she interned at the L.A. DA's office again as part of a course. Most of her colleagues there were already sworn attorneys (had taken the bar).
Taking the Bar Exam…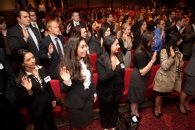 Ranna graduated in May 2011 and immediately began bar prep. Everyone else had just completed three years doing a JD, so Ranna had to learn three years' worth of material in two months. "I was clueless," she recalls. "Real property and criminal law come from foundations set in England, but in actual practice they are very different." She had to learn 13 courses from scratch. "I was very disciplined when studying for the bar. I timed my showers, and how long I could spend on e-mail," she says. "Looking back, I had some nerve…trying to study for and sit next to students who had prepared for this exam for the past few years," she said. After the first day of bar exam, Ranna came out crying and feeling totally overwhelmed. "I just felt like I wasn't getting it," she recalls. "It was very stressful."  She remembers sitting at the bar exam lunch break where everyone was sharing what they had put for the morning exams, which were totally different than what she had put. Ranna took two weeks off after the bar exam to relax and then went back to work at the L.A. DA's office in the Major Crimes Unit where she interned until the end of December 2011.
Back in England…
Back in England, before coming to Chapman Ranna had passed the equivalent of the bar. In England, once one passes the bar, they become a non-practicing barrister looking for the mandatory one-year of paid training ("pupilage") to be a full-fledged barrister. Ranna never began pupilage as she had her mind set on becoming a prosecutor in California.  She did however spend one week at The Royal Courts of Justice with one of the Lord Justices. Back in California, bar exam results were posted online on November 18, 2011. The website lists the names that appear on the pass list and Ranna saw her name. However, until one receives a letter from the state bar nothing is guaranteed. Results came out online on a Friday and Ranna's letter came on Tuesday. "I remember logging on at least five times a day in those few days," she says. That letter is now framed at home.
"Without a doubt, passing the bar came down to the hard work and encouragement I received from Chapman.  Professor Mario Mainero was truly a god send…over the two months, he relentlessly put up with my endless questions, marked my many essays and always gave me great advice.  I have no doubt that without his support I would not have passed the bar. I am also so grateful that Dr. Steiner decided to take a chance on accepting me on to the course.  He is truly an asset to the school.  I hope I have done him proud." Of Chapman she says "I have been to many schools and universities throughout my life and for the most part, all have been good—but Chapman stood out from all the rest.  It stood out because it is so much more than just a university.  We are really lucky to have some of the most incredible faculty members out there.  Furthermore, we are so privileged to have this modern and beautiful learning facility.  Throughout my time at Chapman, I genuinely felt as though everyone had my best interest at heart.  I believe in the years to come Chapman will gain the respect it truly deserves."
Parting thought…
"I've always been the kind of person who works on security and stability and routine. I was very insecure about the future of my legal career when I started at Chapman. Sometimes you just need to jump in there and take the risk. If I can do that, anyone can.  You don't need to be an academic heavy weight, nor do you need some sort of super powers. Perseverance, drive and determination are all you need.  And believe me when I say that if I can do it, you can too." Since January 2012, Ranna has moved to the Hardcore Gang Division of the L.A. DA, and is now in the highly stressful and competitive interview process to become a deputy district attorney.  "This has been my dream now for many years, it is all that I have worked towards, it is all that I want to do, and it is all that I have dedicated my energy and efforts to."