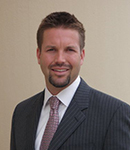 Q & A with Jeffrey Greenman (J.D. '06)
Finding it difficult to get a job in Orange County, I packed up and moved to Los Angeles for an initial offer while I waited for my bar results. A couple months after passing the bar I was offered a job with Mike Alder. After working for a year at AlderLaw P.C. in Beverly Hills, I decided that I had obtained the requisite skills to be able to "go it alone." I then started my own firm, GREENMANLAW P.C. in 2007.
What do you like most about your job?
Having the ability to give plaintiffs an opportunity to fight large corporations and insurance companies. Low ball offers are common place and people call me feeling helpless. I fight for what is right and obtaining compensation equal to what they have endured. Giving this voice to the plaintiff makes my job very enjoyable.
How has your education at Chapman helped you in your job? The education I received at Chapman has helped me tremendously. Courses in torts and trial advocacy formed the basis for what I practice now. Also, after leaving Chapman they have continued to be a huge supporter of me and my career. I appreciate everything they have done and continue to do for me.
What is your advice for current students in order to succeed in their job search?
Do not be too picky about your first legal job. Instead, focus on getting experience and networking. Your "dream job" usually takes some experience to get to. As an old boss of mine once said, "Everyone has to take out the trash at some time." Do not let your ego or pride get in the way of your future.