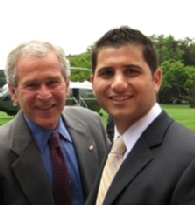 Few people can say they have met the President of the United States, and fewer still have had the opportunity to work as an intern in his Counsel's Office, but Billy Essayli ('10) spent the summer of 2008 doing just that. Selected nationally as only one of three law students to intern at the White House Counsel's Office, Billy worked with the President's premiere team of attorneys.
Working side by side with interns from Harvard and Georgetown, Billy was assigned projects ranging from executive orders to judicial appointments and had the opportunity to attend exclusive lectures given by Senior White House officials including Press Secretary Dana Perino and Chief of Staff Josh Bolton. Billy also worked on responses to Congressional subpoenas and drafted legal memoranda on Constitutional issues.  With such issues a daily topic in the office, Billy found the experience to be "truly a living Constitutional classroom where you could feel that history was in the making."
When he wasn't busy working in the West Wing, Billy enjoyed the exciting Washington D.C. night life, discovering new restaurants in the surrounding area and exploring the seemingly endless monuments and museums. Of the experience, Billy said, "It was humbling to pass through the White House gates into work everyday."
Billy was the President of Chapman's California Republican Lawyers Association and was an elected member of the Student Bar Association. Billy credits the interpersonal skills and legal research and writing techniques he developed at Chapman for helping him to succeed and make the most of his unique experience.
Billy will forever remember his amazing experience at the White House.  "Working among the top legal minds of the nation gave me a perspective and background that will guide me throughout my legal career," he added.