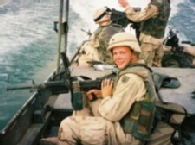 It was an excruciatingly hot summer day in Iraq when then-specialist
Brandon Erickson ('11)
traveled on a familiar route outside Baghdad. As they continued forward, an eerie feeling permeated the air and suddenly his convoy was dazed by a roadside bomb and an enemy ambush. That day changed Brandon's life forever, resulting in the loss of his right arm. Six years and a half dozen surgeries later, Brandon's injury is now his motivation, a cornerstone to his remarkable journey to recovery, perseverance in competitive triathlons and the pursuit of his goal to help other veterans through his education at Chapman University Fowler School of Law.
Brandon's initial ability to cope with the loss of his arm was difficult, but exercise and sharing his story with others helped him move beyond his grief. In 2006, Brandon began training for triathlons to challenge himself. He hopes that his athletic achievements will embolden wounded veterans to believe in their own ability to overcome physical and mental obstacles. Brandon finds value in his work because he wants to give back to those who helped him during his recovery.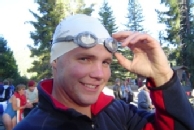 "I want to be there for the guys who have a hard time, hopefully inspire somebody." In addition to talking to other wounded veterans, Brandon actively participates in his community by volunteering for Operation Rebound, which provides sports opportunities for injured veterans.
Brandon's story is a shining example of determination to help others despite living with a life-altering injury. His tremendous accomplishments bring him to Orange where he hopes to become a prosecutor and assist veterans in their legal troubles. Furthermore, Brandon continues to persevere athletically; he has competed in the U.S. National Triathlon Championships as well as the World Triathlon Championships in Australia this past September.