Eghosa "Courage" Isibor ('14) was already a licensed attorney practicing in a top ten Nigerian law firm when he decided to attend the Fowler School of Law to complete his LL.M. degree. "I imagined a post-graduate experience that would give me the opportunity to gain advanced exposure to the dynamics of business law, internationally," he said.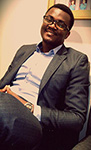 Since the United States is home to most of the Fortune 500 companies in the world, Isibor believed it would be the best place to gain corporate experience as a transactional lawyer. His reasons for choosing Fowler School of Law included impressive curricula, renowned professors of law, and an ideal location in the city of Orange and the State of California.
While the Socratic method and hours of preparation before class sessions dominate in American law schools, Isibor noted that "the system in Nigerian law schools is less interactive/participatory than the system in the United States." He also emphasized that both jurisdictions demand the same type of rigor in and out of the classroom.
He recognizes the value of exploring legal systems outside the United States, and recommends that students take advantage of study abroad and exchange programs. "Nigeria can be a choice destination for such students as she has a legal system akin to that of the U.S. and is host to many multinationals such as Chevron, Shell, ExxonMobil, Standard Chartered Bank, Coca-Cola, Guinness, etc.," he said.
Prior to enrolling in the LL.M. program at Fowler School of Law, Isibor was licensed to practice law in Nigeria and a member of the Nigerian Bar Association. His resume includes work with three law firms in Nigeria and half a decade of legal experience in corporate legal services, commercial transactions, real estate transactions, and conducting feasibility studies and due diligence for clients in relating to commercial investments. Isibor plans to continue his career as a transactional lawyer.
Fowler courses in Mergers & Acquisitions, Securities Regulations and International Business Transactions afforded him the opportunity to strengthen his breadth of knowledge in transactional law, while Business Negotiations and Mediations help him gain dispute resolution experience.
Although Isibor was already a practicing attorney, he has enjoyed the culturally diverse learning and social experience while attending the Fowler School of Law. "I have been a benefactor of the resourcefulness and academic excellence offered by the School as well as the wealth of experience and mastery inherent in the institution's renowned professors of law," he said.