Ryan D. Chavez is a local business attorney with a unique background. Born and raised in Orange County, California, Ryan is the first in his family to attend college.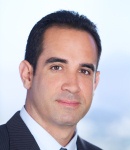 Today, he carries over 10 years of operational, sales, finance and general business experience and he continues to invest and participate in several small businesses in Southern California. Ryan is currently an associate at Stradling Yocca Carlson & Rauth, in Newport Beach, California. Stradling is a prestigious law firm with approximately 100 attorneys, making it the second-largest firm based in Orange County. Ryan specializes in mergers and acquisitions, securities reporting and other general corporate matters for both public and private clients. When asked what he enjoys most about his job, Ryan said that he loves negotiating and working through problems with his clients and identifying practical legal solutions that draw upon his experience as both an attorney and a businessman.
Prior to working at Stradling, Ryan worked as an associate at Rutan & Tucker, LLP, another prestigious law firm in Orange County, California. Before becoming an attorney, Ryan worked as a senior account executive at a company in Orange County and was responsible for acquiring and managing high value customer accounts. From 1998 to 2002, Ryan worked as an internal auditor and financial analyst for the General Electric Company and participated in different financial, operational and compliance audits and on-site due diligence reviews.
Ryan earned his Juris Doctor from Chapman University Fowler School of Law in 2009 and passed the California State Bar. During law school, Ryan was the Editor-in-Chief for the Chapman Law Review and he was ranked 4th in his class. He received his Bachelor of Arts in Economics, with honors and distinction, from Stanford University.
Ryan is a member of the State Bar of California and the Orange County Bar Association. He has published articles for the Los Angeles Daily Journal and the Orange County Business Journal. During his free time, Ryan likes to play with his children and go golfing with his wife, clients and friends. His advice to current law students is to "Work hard, develop relationships and keep an open mind when it comes to the type of law you want to practice."