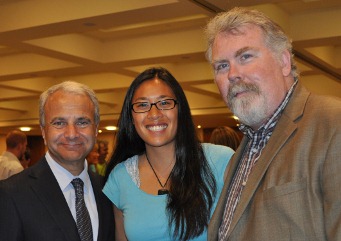 While attending Chapman University Fowler School of Law, Tiffany Chang reignited a group concerned with gay rights after others had failed. Chapman's Associate Dean Jayne Kacer recalled that Tiffany was the only student to raise her hand at the law school's orientation and ask how to start the student group. While Kacer endorsed the idea, she also cautioned that two previous attempts at such a group had failed, not from controversy but for lack of interest.
Chang was undeterred. In the fall of 2008, she re-started OutLaw, a student organization for gay, lesbian, bisexual, transgender individuals, as well as their straight allies.  The group soon hosted a legal forum on same-sex marriage in advance of the November 2008 election on Proposition 8.  When Proposition 8 passed, Outlaw hosted another forum, "Prop 8 Passed—Now What?," with Tiffany as one of the primary speakers.
OutLaw was even named as an amici in an amicus brief submitted to the California Supreme Court in Strauss v. Horton, the lawsuit that challenged the constitutionality of Proposition 8. The brief was authored and signed by more than 15 Chapman University professors and administrators; Chapman University President Jim Doti later petitioned the Supreme Court to join as an Amici.
At first she was worried about how well the effort would be received at a university in a county with a  reputation for being conservative. She said the staff, faculty and students were greatly supportive of the club.  "I've been involved in what I think was a transformation of the law school and the university as a whole, and I'm really grateful for it," Tiffany noted. 
After graduating from Chapman in 2010, Tiffany continued to work as an advocate for LGBTQ issues, multiple leadership positions at the Orange County Equality Coalition, an organization founded in the wake of the passage of Proposition 8 dedicated to the attainment of equality for all through education, dialogue and advocacy.  
Tiffany graduated from Chapman University Fowler School of Law in May 2010, where she received the Professionalism Award. This prestigious award is presented annually by the law school's dean and faculty to the graduating student who has represented the law school to the legal profession and the larger community in a distinctively significant manner. She also received Chapman University's first Outstanding Graduate Student Award. For this recognition, she was nominated by her mentor, the late Katherine Darmer, a professor at Chapman who championed LGBTQ rights. 
She is currently in the works to launch a new law firm with a former law student at Chapman. The firm, "Southern California Adoption Lawyers," will be built on the belief that all families deserve to grow with caring and quality representation, including LGBTQ families that are often under-served in this field.
Tiffany works as legal counsel at a software company based in Irvine, California.