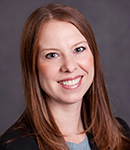 Q & A with Kathryn Casey Bonkowski (J.D. '03)
What do you like most about your job?
The people I work with and the type of work I get to do. Jackson DeMarco Tidus Peckenpaugh is a highly respected, full-service law firm with several diverse practice areas. I am honored to get the opportunity to work with such a remarkably talented group of attorneys who are active in the community, care about their clients, value family, and are just wonderful people to know in general.  Our paralegals and staff are also exceptional and enable us to do our jobs well. I practice in the land use and environmental law group and have the privilege of working on a wide range of cases, from administrative proceedings to litigation in state and federal courts, representing private landowners and builder clients, and special districts and public entities as well; and handling any number of issues, including obtaining and defending entitlement issues, CEQA and NEPA compliance, and air quality matters.  So, my practice is very diverse, and it is very exciting and rewarding to be able to assist clients on such important matters.  The culture of our firm is also a really good fit for me; we all have a lot of respect for one another and are very collaborative and team-minded in our approach to cases and representing our clients. In addition to being an attorney, I am also a mom.  My husband (Chris Bonkowski '03) and I have a four-year-old son, Max, and a nine-month-old daughter, Sloane, whom we adore.  Spending quality time with my family is very important to me, and I am fortunate to have the firm's support and the flexibility to be able to successfully balance my work and home life.  I do not think all working moms can say that, so I feel very lucky!
How has your education at Chapman helped you in your job?
I received an excellent legal education at Chapman, both as an undergraduate and law student. I was interested in land use and property law during law school, so I took electives and received the Environmental, Land Use, and Real Estate Certificate.  My interest in those courses led me to an LL.M. program in natural resources and environmental law, and ultimately to Jackson DeMarco Tidus Peckenpaugh, where I practice land use and environmental law.  I believe my commitment to this practice area, which started at Chapman, helped me obtain and prepare for my position at the firm.  I was also on Chapman Law Review and was a Dean's Fellow in the legal research and writing program, and the skills I learned through these programs – editing, legal citations, creative research, persuasive legal writing, attention to detail, etc. – I use every day and are critical to my practice as an attorney, especially as a litigator. I also keep in touch and network with my former classmates, professors, and other contacts that I made through Chapman.  Those great minds are an invaluable resource!
What is your advice for current students in order to succeed in their job search?
Be persistent, but flexible and open-minded.  Try a variety of approaches, you never know where an opportunity may exist. Research firms or agencies that have the practice areas you are interested in, then send letters and follow up with phone calls. Reach out to alumni as well as attorneys that you know of that practice in the areas you are interested in; they may know of other firms that are hiring or other attorneys with whom you could contact or network. Socializing and attending different events, getting involved in organizations and the community, writing articles or volunteering for speaking engagements, will help to broaden your network of contacts and lead to job prospects or other opportunities and will also diversify your resume.  I also recommend taking as many skills courses as possible at Chapman, in addition to academic courses.  As a first-year attorney, the learning curve is steep. So, classes that afford you the opportunity to do mock trials or mediations, or drafted pleadings, motions or contracts, are great experience and good for your resume too.  Internships, clerkships, volunteer work, and any type of legal job are also fantastic experience that could aid in a job search.