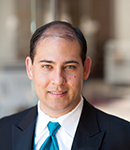 Q & A with Paul Alarcón (J.D. '10)
What do you like most about your job?
I really enjoy resolving legal disputes as well as participating in the development of legal precedents and the administration of justice. I also enjoy the intellectual challenge and the opportunity to work alongside eminent legal minds.
How has your education at Chapman helped you in your job?
During my clerkship with the Honorable J. Leon Holmes and in my current position, my main job has been to think clearly and write well. My experiences at Chapman Law School certainly helped me to develop these abilities. I would particularly emphasize my experiences working on the Chapman Law Review and in the Constitutional Jurisprudence Clinic and the Ninth Circuit Appellate Law Clinic. I think that the opportunities for internships and Chapman's assistance in finding good ones (including, for me, an externship with the Honorable David G. Sills of the California Court of Appeal) also have significantly contributed to my successes as a judicial clerk.
What is your advice for current students in order to succeed in their job search?
It is essential that a law student who wishes to clerk for a federal judge do well academically. Also, such a student should seek experiences that require careful legal reasoning and extensive legal writing. A position on the editorial board of the Chapman Law Review is particularly helpful. Internships with judges or summer associate positions at well-known firms are excellent opportunities as well. Finally, a student who wishes to be seriously considered for a clerkship must develop close relationships with at least two professors who can stress the student's excellent writing ability. I think it is important to remember that rejection should never be taken personally because most federal judges hire for only one or two positions from hundreds or thousands of applicants.