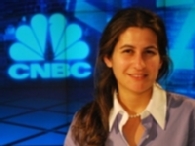 Ask former Entertainment Law Student Serra Aladag (J.D. '09) what she did during her last summer in law school and she'll have a hard time hiding her enthusiasm over her amazing externship experience at CNBC Europe in London. Working side by side with a hand-picked group of externs from top schools such as USC and Vanderbilt, Serra was the first ever legal extern to work at the CNBC London Office (formerly CNBC Europe). The opportunity gave her a chance to work on high-impact international media projects, including licensing, distribution and risk management.
In this unique position, Serra gained hands-on experience in legal issues concerning the European market. Much of her time was spent reviewing and revising syndication and production agreements for European affiliates. Serra also regularly took part in compliance meetings with the CNBC offices in London, Paris and Frankfurt.
"I had a fantastic time at CNBC! Although the network predominantly covers business news and programming, it also includes entertainment shows on the evenings and weekends, such as The Tonight Show with Jay Leno and The Luxury Life Series. Due to the broad spectrum of programming, I was able to work on a range of these matters," she said.
"One interesting project required that I create a power point presentation on The Office of Communications [UK Television Broadcasting Regulatory Organization]. In order to make it more engaging, I produced a brief video illustration of the principal rules, which featured two of the CNBC morning news anchors," she noted.
While in London, Serra observed Chapman's growing international reach, as she was among a number of alumni who attended the Chapman University Alumni Reception at Blackstone's London office in July 2008.
Serra participated in Chapman's new Entertainment Law Emphasis program. "Chapman's Fowler School of Law has created a lot of exciting new entertainment classes in its curriculum, such as 'New Media Law' and 'Entertainment Contracts and Negotiations.' It has been a bonus for legal students with an interest or background in entertainment," she added.
Serra received her undergraduate degree from Chapman University, with honors, earning a Bachelor of Fine Arts in Television and Film. Serra now works for Jakks Pacific, Inc. in Malibu, CA.