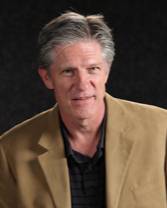 William Kroyer
Professor Emeritus of Film and Media Arts

Lawrence and Kristina Dodge College of Film and Media Arts
Office Location: Marion Knott Studios DMAC 115
Education:

Northwestern University, Bachelor of Science
Biography
"With all these cool digital tools and tricks coming along, the tendency is to get mesmerized by them. The truth is that technology is still just a glorified pencil, something to make a vision with. It is the vision itself that is the master."
So says Bill Kroyer, award-winning director of animation and computer graphics commercials, short films, movie titles and theatrical films. Trained in classic hand-drawn animation at the Disney Studio, Kroyer was one of the first animators to make the leap to computer animation as computer image choreographer on Disney's ground-breaking 1982 feature, Tron. Founding his own company, Kroyer Films, Inc., he and his wife, Susan, pioneered the technique of combining hand-drawn animation with computer animation.
Kroyer's approach is to put the tools and their users to work in service of the story. "It's natural that the toolmakers believe they're the best ones to use the tools, but it doesn't work that way," he says. "You go to hear Rubinstein play, not the guy who made the piano."
Kroyer has served as a Governor of the Short Films and Feature Animation Branch of the Academy of Motion Picture Arts and Sciences and Co-Chair of the Academy's Science & Technology Council.
Recent Creative, Scholarly Work and Publications

ON ANIMATION, THE DIRECTOR'S PERSPECTIVE, a two-volume collection of interviews and recollections of the greatest directors of modern animated feature films that I co-authored with USC Professor Tom Sito. ISBN-13: 978-1138066533 ISBN-10: 1138066532