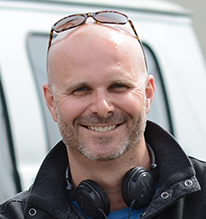 Travis Knox
Associate Professor, Artistic Faculty

Producing
Lawrence and Kristina Dodge College of Film and Media Arts
Office Location: Marion Knott Studios 358
Education:

Chapman University, Bachelor of Fine Arts
Biography
Immediately following graduation from Chapman University in '93, Travis Knox packed his belongings and moved to Hollywood.  His entry-level gig as a receptionist for Bruce Willis and Demi Moore's company lasted six weeks before he was promoted, starting the glamorous life of a producer's assistant.
After a couple of years paying his dues, Knox was hired by producers Craig Zadan and Neil Meron as a production associate on the television movie events The Beach Boys: An American Family and Annie, directed by Rob Marshall and starring Kathy Bates. He continued his association with Zadan and Meron's Storyline Entertainment on the Emmy Award-winning Life With Judy Garland: Me and My Shadows and biopic Martin & Lewis.  
After making the jump to working on feature films, including Miramax's Chicago (which went on to win six Academy Awards including Best Picture), Knox was raised to Storyline Entertainment's Executive vice president of motion picture production. 
During this time he was responsible for finding, packaging and overseeing the Rob Reiner-directed Warner Bros. hit, The Bucket List, starring Jack Nicholson and Morgan Freeman, on which he served as an executive producer. Knox was also a co-producer on the movie musical Hairspray, starring John Travolta, Christopher Walken, Queen Latifah and Michelle Pfeiffer.
Knox has returned to the university where he currently runs Chapman Entertainment, the feature film studio set up to help alums make the transition to feature films.  He also serves on Dodge College's alumni board and enjoys teaching a class on producing.
Recent Creative, Scholarly Work and Publications

Executive Producer of the award-winning feature documentary, "Breaking Bread". This film received a 91 on Rotten Tomatoes and was released on 80 screens in January, a truly remarkable feat for a doc.

Co-Director / Producer: "Behind The Indianapolis 500 With Parnelli Jones"